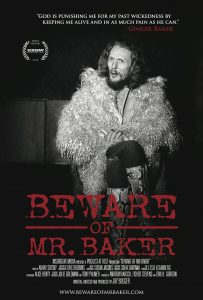 «Beware of Mr. Baker» es el título de uno de los mejores documentales del pasado año 2012, junto a "Searching for Sugar Man", ganador del Oscar 2012 al mejor documental entre otros premios, que estará a la venta el próximo 14 de mayo.
«Beware of Mr. Baker», film documental sobre el batería de Cream, Blind Faith o BBB, Ginger Baker y dirigido por Jay Bulger, según muchos críticos musicales considerado como el mejor batería de la historia del Rock.
En «Beware of Mr. Baker», aparecen nombres como Lars Ulrich, batería de Metallica, Johnny Rotten, Eric Clapton, Carlos Santana, Charlie Watts, Steve Winwood, Bill Ward (Black Sabbath), Nick Mason (Pink Floyd), Stewart Copeland (The Police), Neil Peart (Rush) o Chad Smith de The Red Hot Chili Peppers, hablando de la fuerte personalidad e influencia de Ginger Baker.
Peter Edward Baker, Ginger Baker, viejo gruñón inglés que vive en la actualidad en Sudáfrica, siempre fue un apasionado del Jazz, gran consumidor de sustancias psicotrópicas como el LSD o la heroína, genio en la técnica del "time", o ritmo en la batería, además de componer o arreglar canciones, un músico realmente completo.
Varias anécdotas se cuentan en el documental «Beware of Mr. Baker», sobre el miedo que le profesaban tanto Eric Clapton como Mick Jagger, al que llegó a reírse en actos públicos varias veces.