Un Reportaje Fotográfico de Dirty Rock en Las Palmas de Gran Canaria.
«Stompin' Blues And Boots»»
The Last Internationale / Molly Gene one Whoaman Band
Promueve: Salan Producciones
Venue: The Paper Club
Fechas: 1 de marzo de 2013
Fotos y Texto: Esteban Campos Trujillo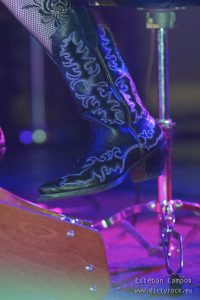 Molly Gene One Whoaman Band, se encargó de abrir la noche cinco minutos más tarde de la hora prevista, 22:05 y lo hacía sin contemplación alguna, con el primer corte de su primer disco ("Hillbilly Love", 2010), «Bumble Bee» y el acelerador a fondo. Desde ahi, y sin dar un respiro al público que comenzó frio y alejado unos metros del escenario, fue desgranando tema a tema de su repertorio. Su desgarradora voz rugia en todo el Paper Club y hacía temblar los cimientos del recinto, mientras, no paraba de maltratar con sus botas el instrumento de percusión. Salió a matar con gritos de motosierra, guitara en mano y pataleando batería, agarrando su repertorio más reciente "Folk, Blues and Booze" (2011) y su debut, apalizándolos hasta dejarlo en perfecto estado para servirlo a todos nosotros.
Para acceder a la galería fotográfica pincha sobre la miniatura de la izquierda o sobre esta línea.
Molly Gene brilló intensamente sin casi ningún punto muerto, describiendo cada canción, hombres que llegan borrachos a casa oliendo a whiskey y perfume, pistolas, trenes, asesinatos, peleas, amor, golpes, etc., los sacramentos de la granjera de Missouri.
Molly Gene One Whoaman Band: «Mississippi Thud»
Molly Gene One Whoaman Band, no dio respiro al medio aforo de The Paper Club en Las Palmas de Gran Canaria, pulverizando al público con su endiablada voz, guitarra y batería, Deep Blues, Country, Hillbilly, Folk y Gospel, ese "Delta Thrash" que defiende junto a facinerosos como Joe Buck o Scott H. Biram.
Molly Gene One Whoaman Band: » Waitin' «
Pasadas las 23:15 horas, después de un pequeño descanso para acondicionar el escenario, aparecieron en él, The Last Internationale frente a un público ya entregado y conocedor de la Banda y su directo. Muchos repetían después de aquella fantástica actuación en el Mojo Club, otros lamentaban haberse perdido su primer concierto en Las Palmas de Gran Canaria y acudieron a comprobar lo que de los Neoyorquinos se dijo en su día.
The Last Internationale: » Moanin' At Midnight «
The Last Internationale arrancaron su concierto gimiendo con «Moanin' at Midnight», perteneciente a su último EP "New York, I Do Mind Dying", con el sensual timbre de voz de Delila y derrochando energía por parte del guitarrista Edgey y Fernando Silva a la batería. El directo de The Last Internationale, se asemeja bastante sus discos, mirándose al espejo de Willie Dixon o Buddy Holly como en su «Not Fade Away» entremezclado con «Who Do You Love» de Bo Diddley o el "Moanin' at Midnight," una version de Howlin' Wolf, con la que abrieron la noche.
The Last Internationale: «Fuzzy Little Creatures» «Not Fade Away»
The Last Internationale se entregaron al límite, se arrastraron por la tarima, saltaron del escenario a la sala y se mezclaron con todos los que allí estábamos. Una hora y quince minutos, más o menos, de furia y rabia y dieron por finalizado su concierto. Pero los asistentes los obligaron a salir de nuevo al escenario. Entonces ellos se sentaron al borde de la tarima y rodeados del que ya es su público interpretaron en acústico, más de su repertorio.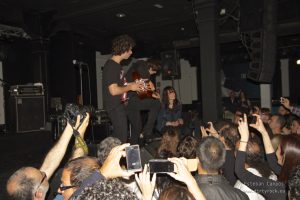 El momento para el recuerdo reflejado por las cámaras de eNetvONAIR, con The Last Internationale tocando en acústico, por culpa de la policía.