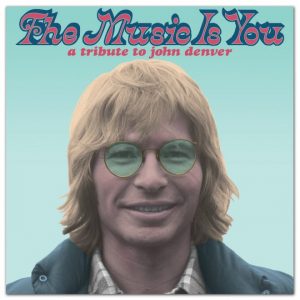 "The Music Is You: A Tribute To John Denver", es un nuevo disco tributo a John Denver, cantante, compositor y actor norteamericano del Folk Country, que saldrá a la venta el próximo 2 de abril.
"The Music Is You: A Tribute To John Denver", cuenta con 16 versiones en la que intervienen entre otros Lucinda Williams, My Morning Jacket, Old Crow Medicine Show, Kathleen Edwards, Dave Matthews, Train, Amos Lee, Edward Sharpe and the Magnetic Zeros, Brandi Carlile & Emmylou Harris, Josh Ritter and Barnstar!, Brett Dennen & Milow, Mary Chapin Carpenter, Allen Stone, Blind Pilot, J Mascis & Sharon Van Etten y Evan Dando.
Escucha «Leaving On A Jet Plane», de My Morning Jacket
"The Music Is You: A Tribute To John Denver", se publica quince años después de la muerte de John Denver a los 53 años, pilotando un avión experimental de fibra de vidrio por la costa californiana el norte de San Francisco, y 40 años después del multipremiado disco "Rocky Mountain High" (1972), con canciones como "Paradise" o la homónima "Rocky Mountain High", actual canción del estado de Colorado.
John Denver, cantante ganador de cinco premios Grammy, dos de ellos a la mejor canción y composición, grabó 23 discos de estudio, 33 millones de discos vendidos, y "Leaving on a Jet Plane," "Take Me Home, Country Roads," "Sunshine On My Shoulders, "Annie's Song" o "Rocky Mountain High", entre sus canciones más conocidas.
Escucha «Annie's Song», de Brett Dennen and Milow
Escucha «The Music is You: A Tribute to John Denver».
Tracklist de
1. Leaving On A Jet Plane, My Morning Jacket
2. Take Me To Tomorrow, Dave Matthews
3. All Of My Memories, Kathleen Edwards
4. Prisoners,  J Mascis and Sharon Van Etten
5. Sunshine On My Shoulders, Train
6. Back Home Again, Old Crow Medicine Show
7. This Old Guitar by Lucinda Williams
8. Some Days Are Diamonds, Amos Lee
9. Rocky Mountain High, Allen Stone
10. Annie's Song, Brett Dennen and Milow
11. Looking For Space, Evan Dando
12. Take Me Home, Country Roads, Brandi Carlile and Emmylou Harris
13. The Eagle And The Hawk,  Blind Pilot
14. I Guess He'd Rather Be In Colorado, Mary Chapin Carpenter
15. Darcy Farrow, Josh Ritter and Barnstar!
16. Wooden Indian, Edward Sharpe and the Magnetic Zeros