«Oh mother tell your children
Not to do what I have done
Spend your lives in sin and misery
In the House of the Rising Sun»
The Last Internationale demostraron poderío y cohesión en su primera visita a Tenerife, Aguere Espacio Cultural de La Laguna, el pasado sábado 2 de marzo de 2012.
The Last Internationale una de las bandas norteamericanas más agitadoras e inquietas por buscar ese doloroso camino entre el Blues y todo el "Roots" estadounidense, magníficamente documentado en tres trabajos, su último "New York, I Do Mind Dying", ese viaje que ha tenido que transitar la raza negra hasta poder contemplar a uno de los suyos en lo más alto de su país.
Molly Gene One Whoaman Band, se encargó de abrir e incendiar la noche con su magnífico concierto, ahora tocaba oír el crujir de los cartílagos con The Last Internationale. Medianoche, saltan al escenario Delila a la voz y bajo, Edgey a la guitarra y Fernando Silva a la batería, se concentra en la sala tensión, ampliada por el retumbo de una serpiente en forma de guitarra y el eco de firmes golpes de batería, Howlin' Wolf se plantaba enfrente de Delila, y los dos a aullar y gemir, ¡qué maravilla!, es la versión del genio y viejo lobo "Moanin' at Midnight", un primer aperitivo delicioso.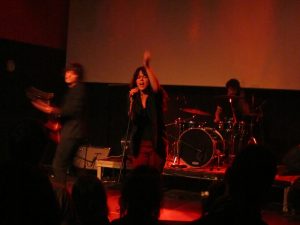 The Last Internationale con una inmensa Delila Paz, que estuvo a punto de escupir sus propios pulmones, provocó el crujir de los huesos de todo ser viviente en la sala lagunera, con los tres trallazos de oscuro Blues y Rock'n'Roll interpretados con saña, Edgey y Fernando Silva, apretando los dientes, "Mean Mistreatin' Mama" guiñó a Elmore James y primera dedicatoria a Dirty Rock magazine y todos sus lectores y "Bourgeois Blues", guiñada a LeadBelly y de nuevo a Dirty Rock magazine, todo ello zapateando y marcando el ritmo contra el suelo, Blues and Boots!.
Delila de ascendencia puertorriqueña, Edgey y Fernando de estirpe portuguesa, comenzaron con la mutua influencia del Folk político de Delila y el Blues de Edgey, quedando sellada su unión cuando descubren al mismo tiempo a Woody Guthrie, lo cual fue como una especie de revelación, tras ellos toda la milicia del Delta más pantanoso Howlin' Wolf, Elmor James, Muddy Waters, LeadBelly, Buffy Saint-Marie o Pete Seeger.
The Last Internationale, y sus canciones se fueron endemoniando, y las canciones iban serpenteando entre una maraña de guitarreo intenso, para darnos un paseo oscuro y dejarnos esa sensación de recorrer pasajes profundos de todo el "Roots Music" norteamericanos, arraigados en los pantanos de Nueva Orleans con su última canción homenaje a la gran ciudad donde comenzó todo, «The House of the Rising Sun«.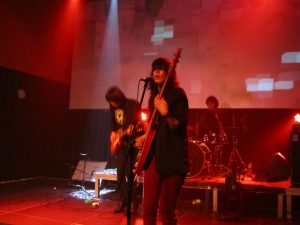 Cod'ine, Done Somebody Wrong, Fuzzy Little Creatures, su dedicatoria a Buddy Holly y Bo Diddley en dos canciones intercaladas como "Not Fade Away" con "Who Do you Love?",  su homenaje Johnny Cash con el único tema Country del repertorio The Last Internationale en River Blue, Crawling Queen Snake, o Life, Liberty and The Pursuit of Indian Blood.
The Last Internationale se merecen estar muchísimo más arriba, ellos siguen pisando fuerte ese fango del Blues y Folk, y jugando con esas granadas Punk, que se estrellan en arreglos Rock, detonando a cualquiera. Aunque sigan mirando hacia atrás, el camino a seguir lo tienen bastante claro, discos analógicos, ahora son más impenetrables que en su anterior gira, grandiosa actitud, clase, gente sencilla que da color a la música.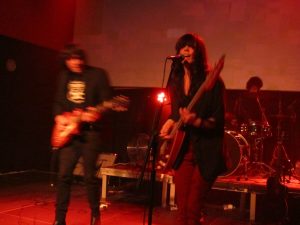 Charlando con toda la banda tras el concierto en Tenerife, The Last Internationale se dirigen tras su gira europea a la ciudad de Los Angeles, quizás sea el punto de detonación y despegue definitivo de una banda que no puedes dejar de admirar.
Fervientes seguidores de Woody Guthrie, el día anterior en el The Paper Club de Las Palmas de Gran Canaria, desafiaron a la policía tras cerrar el local, interpretando «The House of the Rising Sun«. Crónica de The Last Internationale en Las Palmas de Gran Canaria, The Paper Club del 1 de marzo de 2013, que puedes leer en éste párrafo, videos, fotos y última canción de la banda tocada en acústico.
«This Machine called The Last Internationale Kills Fascists»
Si quieres leer la crónica de Molly Gene Whoaman Band en el Aguere Espacio Cultural abriendo para The Last Internationale, pincha en éste párrafo.