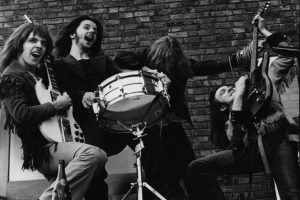 "Performance Rockin' The Fillmore" de Humble Pie es el legendario concierto grabado el 27 y 28 de mayo de 1971 en el Filmore de la ciudad de Nueva York será reeditado en una edición de lujo junto a otras obras de Humble Pie con Steve Marriott, Peter Frampton, el genio a la batería Jerry Shirley y el bajista Greg Ridley, Clem Clempson que sustituiría a Frampton, tras aquel disco.
Humble Pie se conformaba tras la ruptura de Steve Marriot con Small Faces, el genial cantantetras encontrar definitivamente su sonido y sitio, forma esta súper banda junto a Jerry Shirley, Greg Ridley y Peter Frampton, provocando la aparición de Faces con Rod Stewart y Ronnie Wood, dos de las super bandas más importantes del Rock en Gran Bretaña, Humble Pie y Faces, las dos influenciadas por el Soul y Blues norteamericano, las dos serían los grandes exponentes del Rock sureño en el viejo continente.
"Performance Rockin' The Fillmore", refleja el sonido, actitud y garra de Humble Pie, Hard Rock Blues contenido en seis versiones y una canción original con Marriott, Frampton, Ridley y Shirley, con temas de Dr. John, Muddy Waters, Ray Charles, Ida Cox, Willie Dixon y la original "Stone Cold Fever".