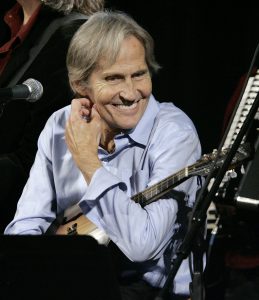 Se cumple hoy 26 de mayo de 2013, el 73 aniversario del nacimiento de Levon Helm, uno de los nombres más importantes y relevantes de la música del siglo pasado, junto a The Band, quizás los precursores a finales de los años sesenta de un nuevo género, la Americana music, aglutinando en canciones Country, Bluegrass, Gospel, Blues y Rock & Soul sureño.
Levon Helm es miembro del Rock & Roll Hall of Fame, ganador hace dos años de su tercer Grammy por "Ramble at the Ryman" mejor álbum Americana, y los grandiosos "Dirt Farmer" (2007) y "Electric Dirt" (2009), de éste genio con su voz rasposa e inconfundible y manera de tocar la batería y mandolina.
Levon Helm en sus comienzos tocaba la guitarra y la batería en la banda derockabilly The Hawks con el gran Ronnie Hawkins, y a finales de los años cincuenta emigran a Canadá para buscar músicos y oportunidad, allí reclutan varios músicos como el guitarrista Robbie Robertson, el bajista Rick Danko, el pianista Richard Manuel y a los teclados Garth Hudson, embrión de lo que sería The Band, pero antes se denominarían Levon Helm and The Hawks.
Bob Dylan se fijó en ellos y los incorpora a su gira como banda de acompañamiento, a partir de entonces la carrera de Bob Dylan y The Band se dispara, Capitol Records apuesta por Levon Helm y The Band, comenzando a publicar sus primeras obras maestras, "Music from Big Pink", "The Band" y otros cinco álbumes más hasta la separación del grupo en 1977.
La película The Last Waltz reflejaría a través de la visión de Martin Scorsese el legado de The Band en una obra maestra del cine documental, realizado en 1977.
Levon Helm a partir de entonces compaginaba giras con Ringo Starr and His All Starr Band (Nils Lofgren, Clarence Clemons, Dr. John, Jim Keltner, Billy Preston, Joe Walsh, Rick Danko), además de algunos intentos de unir a The Band, publicando un último disco en 1998, "Jubilation".
Hace unos meses se estrenó un documental sobre Levon Helm titulado "Ain't in It for My Health: A Film About Levon Helm", del que puedes conocer más detalles clicando en éste párrafo.

Levon Helm se marcharía defnitivamente de nosotros un 19 de abril de 2012, a los 71 años de edad.