Dr. John, Mac Rebennack, publica hoy 3 de abril de 2012, nuevo álbum "Locked Down" (Bloqueado) con un productor de excepción, Dan Auerbach, guitarrista y compositor de The Black Keys, grabado en los estudios «Easy Eye Sound» en Nashville.
Dr. John y Dan Auerbach se conocieron en el Bonaroo Festival en Teneessee el pasado 12 de junio de 2011, en una superJam junto al batería de My Morning Jacket, Patrick Hallahan, tocando clásicos del Blues, Jazz y temas de Dr. John durante unas horas.
Hemos tenido la oportunidad de escuchar el décimo sexto disco del "Nite Tripper" y no hay duda que "Locked Down" será uno de los mejores discos del 2012.
Sonidos del New Orleáns más sucio y de los años veinte, hedor a Louisina por todos los costados, cascabeles, Blues, Funky, Afrobeat y Rock Psicodélico pantanoso y ese piano Rhodes maravilloso, nutren los diez fantásticos temas interpretados por el genio Dr.John y la fantasía en ciernes como productor del guitarrista de The Black Keys , Dan Auerbach.

Dr. John cantando «Revolution» de su nuevo disco «Locked Down»
Dr. John y Dan Auerbach comienzan una mini gira de tres conciertos desde el próximo 5 de abril en Nueva York hasta el día 7 de abril para presentar «Locked Down». A partir de ahí Dr. John iniciará una larga carrera de conciertos que lo llevará desde Estados Unidos a Europa, hasta el próximo julio de 2012.
Dan Auerbach, por su parte, continuará con su gira con The Black Keys a partir del 13 de abril en el Coachella Festival en Indio, California, otro de los festivales más importantes del mundo. El 9 de agosto comienzan su gira europea en Oslo, Noruega y precisamente ayer se daba la noticia que la primera fecha española será el 28 de noviembre en el Palacio de Deportes en Madrid.
«Revolution», Dr. John, de su nuevo álbum «Locked Down»
Dr. John y Dan Auerbach el pasado 12 de junio de 2011, con la Superjam en el Bonaroo Festival, Teneessee
Escucha «Locked Down» de Dr. John

Dan Auerbach tras el año 2009, cuando produce su primer disco en solitario "Keep it Hid", después de romper con su compañero de The Black Keys, Patrick Carney, que hacía lo propio formando una nueva banda llamada "Drummer" y sacando también disco nuevo "Feel Good Together", comienza a rastrear nuevos territorios musicales.
Uno muy interesante y que no tuvo mucha trascendencia, diría que nula en nuestro país fue el proyecto llamado "BlakRoc", un proyecto en el que The Black Keys unían sus fuerzas con la música Hip Hop y Rap, mezclándola con su Blues y Rock arenoso.
Artistas del Hip Hop y Rap como MC Jim Jones, Mos Def, RZA, Raekwon, Q-Tip, Ludacris, Pharoahe Monch, M.O.P.'s Billy Danze, Jones y Ol' Dirty Bastard. El disco Blakroc, homónimo merece ser escuchado. Hay un segundo disco en camino, esperemos que llegue pronto.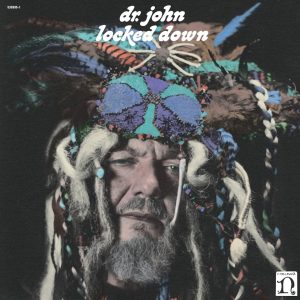 El tracklist de «Locked Down» es el siguiente:
Locked Down
Revolution
Big Shot
Ice Age
Getaway
Kingdom of Izzness
You Lie
Eleggua
My Children, My Angels
God's Sure Good
Recientemente, el pasado mes de marzo Dr.John estuvo interpretando varios temas de su nuevo disco «Locked Down» en el mejor festival del mundo, el SXSW en Austin.
El «teaser» de la promoción del disco «Locked Down» con la canción «Revolution»
Dirty Rock te muestra dos entrevistas a Dr. John, la primera en el Festival SXSW de Austin 2012, en la que Mac Rebennack cuenta como conoció a Dan Auerbach, como fue aquella actuación el año pasado en el Bonaroo, etc.
La segunda entrevista la realiza la emisora de radio WMYC 93.2 FM,  desde Nueva York, en la que cuenta la realización de «Locked Down» con actuación en directo de sus nuevos temas.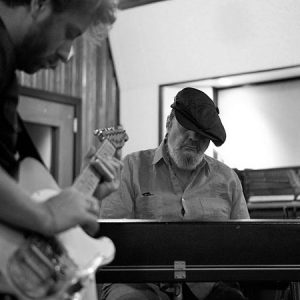 Dr. John, Mac Rebennack 's releasing today April 3, 2012, Locked Down, a startling album that marks a significant departure from his recent efforts. The new album, produced by The Black Keys' Dan Auerbach, will be Dr. John's first for Nonesuch Records.
It's an entirely new approach for the iconic Dr. John, featuring as it does his collaboration with Auerbach and a band of young musicians Auerbach hand-picked to make Locked Down at his studio Easy Eye Sound in Nashville. «It was way cool cutting this record with Dan and the crew he put together for it,» says Rebennack. «It's reel HIP.»
For his part, Auerbach says about the collaboration: «Mac inspired me every single day we were in the studio together – musically, spiritually, cosmically…something special seemed to be happening and everyone involved could sense it. For my money, Mac's one of the greatest who ever was and who ever will be…I'm so honored to have had this opportunity to work with him.»
Dr. John «Locked Down Tour 2012» dates:
Dr. John & Dan Auerbach 04/05/12 Thu Brooklyn Academy of Music Brooklyn, NY
Dr. John& Dan Auerbach 04/06/12 Fri Brooklyn Academy of Music Brooklyn, NY
Dr. John & Dan Auerbach 04/07/12 Sat Brooklyn Academy of Music Brooklyn, NY
Dr. John & The Dirty Dozen Brass Band 04/12/12 Thu Brooklyn Academy of Music Brooklyn, NY
Dr. John & The Dirty Dozen Brass Band 04/13/12 Fri Brooklyn Academy of Music Brooklyn, NY
Dr. John & The Dirty Dozen Brass Band 04/14/12 Sat Brooklyn Academy of Music Brooklyn, NY
Dr. John 04/28/12 Sat Tipitina's Uptown New Orleans, LA, junto con Bruce Springsteen, Al Green, Janelle Monae, Pete Fountain, Yolanda Adams, Iron & Wine, Cowboy Mouth, Trombone Shorty & Orleans Avenue, Dianne Reeves, Tab Benoit, Sonny Landreth, Gary Clark Jr., Papa Grows Funk, CJ Chenier, Nicholas Payton, Ellis Marsalis, Big Chief Monk Boudreaux, Phil Wiggins & Corey Harris, Sunpie Barnes and the Louisiana Sunspots, New Orleans Klezmer Allstars, Treme Brass Band, Steve Riley And The Mamou Playboys, Victor Goines, Leo Jackson and The Melody Clouds, Bill Summers, Brice Miller, Jumpin' Johnny Sansone, Ernie Vincent & Top Notes, Don Vappie, Panorama Jazz Band, Pat Casey & the New Sound, Butch Thompson, Spencer Bohren, Johnette Downing, Ayla Miller y muchísimos más
Soul Asylum 04/29/12 Sun New Orleans Jazz & Heritage Festival at New Orleans Fairgrounds New Orleans &Soul Rebels Brass Band
Dr. John & Zigaboo Modeliste, Leo Nocentelli 06/15/12 Fri Paramount Theatre Oakland, CA B¡
Dr. John 06/29/12 Fri The Hop Farm Kent, GB
Dr. John 07/02/12 Mon The Paradiso Amsterdam, NL
Dr. John 07/10/12 Tue Nice Jazz Festival Nice, FRA
Dr. John 07/18/12 Wed Under the Bridge London, GB
Dr. John 07/19/12 Thu Under the Bridge London, GB A
Dr. John & Blind Boys of Alabama, Rik Emmett 11/10/12 Sat B.B. King's Blues Club New York, NY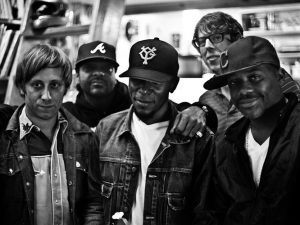 Podcast: Reproducir en una nueva ventana | Descargar