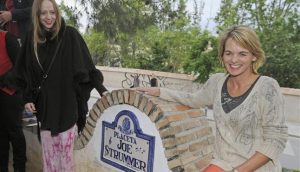 Joe Strummer, líder de The Clash o The Mescalero tiene una nueva plaza en la ciudad de Granada, «Placeta de Joe Strummer», desde ayer 20 de mayo de 2013, en la que asistieron su viuda, Lucinda Garland, las dos hijas que tuvo con su primera mujer, Gaby Slater, y una nieta de corta edad del cantante, y en la que también se celebró un concierto homenaje con Antonio Arias (cantante de Lagartija Nick), José Antonio García «Pitos» (cantante de 091), Richard Dudanski (batería de The 101ers y The Raincoats), y desde Gran Bretaña acudieron, Jem Finer al banjo y Callum Sadler, yerno de Joe Strummer, a la guitarra (Callum y su chica, Lola Strummer, tienen su propio grupo, Dark Moon).
Joe Strummer cayó rendido ante los encantos de la ciudad de Granada y también por la figura del poet a García Lorca, ya la había nombrado en la canción «Spanish bombs», e instalándose en Granada en 1986 para producir «Más de cien lobos», el segundo álbum de la banda local 091, Joe Strummer vivió también en el Cabo de Gata (Almería).
La historia de amor de Joe Strummer y Granada está retratada en el documental "I Need a Dodge! Joe Strummer On The Run", del que ya te hemos hablado en Dirty Rock,  la fascinante historia de Joe Strummer y su coche, un viejo Dodge Dart de color plateado, que dejaría aparcado en un garaje de Madrid tras una larga noche de borrachera en Malasaña durante una visita a España en 1986, y tras una llamada desde Londres, su hija Lola estaba a punto de nacer, aparcaba su coche, cogía un avión y olvidaba entonces dónde dejaba su Dodge.


Joe Strummer huyó hacia Granada, para sentir el dolor ( to feel the pain), como él lo definía.