The Future Is Unwritten
«I Need a Dodge! Joe Strummer On The Run» es la fascinante historia de Joe Strummer y su coche, un viejo Dodge Dart de color plateado, que dejaría aparcado en un garaje de Madrid tras una larga noche de borrachera en Malasaña durante una visita a España en 1986, y tras una llamada desde Londres, su hija Lola estaba a punto de nacer, aparcaba su coche, cogía un avión y olvidaba entonces dónde dejaba su Dodge.
Años más tarde, Joe Strummer, pedía desde el festival británico de Glastonbury a través de un jóven periodista español Radio 3 Paco Pérez Bryan, ayuda para encontrar su viejo coche, «Si alguien sabe dónde está el coche de Joe en España que nos llame por teléfono y a ver si podemos darle a Joe su coche que para eso es su coche», aquel fue el llamamiento desde Glastonbury «Amigos, mujeres, brothers and sisters, I loved that Dodge!», recalcaba Joe Strummer, coche al que llamaba «el monstruo».
Nick Hall, un jóven director británico afincado en Barcelona escucha esa entrevista y queda fascinado por esta historia, a partir de entonces recrea una crónica alrededor del coche de Strummer y sus viajes a España durante los años de 1984 y 1985, donde el genio Strummer buscaba refugio tras el declive de The Clash.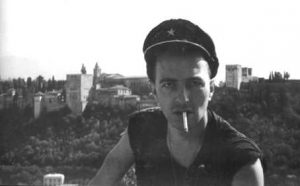 Joe Strummer viajaba mucho desde Madrid hacia Granada en aquel Dodge, recordemos que era la época de la movida madrileña, España  vivía una apasionante efervescencia musical y en la que todo estaba por hacer, en la ciudad de la Alhambra,  Strummer descubrió a los 091, un joven grupo de rock granadino, y les produjo su segundo disco «Más de cien lobos», cuya maqueta había titulado, «Grabando en Recogidas with sexy señoritas».
Los 091 recuerdan que se encontraron a un tipo "con aspecto de leñador" en una taberna granadina: "Cómo podía pensar yo que iba a estar grabando un disco con un tío al que admiraba tanto. Para mí, era una cosa impensable" recuerda el cantante de los 091.
«I Need a Dodge! Joe Strummer On The Run» explica también el paso de Joe Strummer por el Madrid de «La Movida», su amistad con Luis y Santiago Auserón de  Radio Futura (Joe Strummer dormía en la casa de Luis Auserón), y anécdotas divertidas como el encuentro con Isabel Pantoja, además de sorpresas como la canción «José Rasca» (traducción al castellano del nombre Joe Strummer), compuesta por el que fuera cantante de Radio Futura e incluida en la banda sonora del documental.
Su coche, el Dodge se convirtió en un símbolo de la ansiada libertad que buscaba Joe Strummer al huir hacia Granada, para sentir el dolor ( to feel the pain), como él lo definía.
La producción de «I Need a Dodge! Joe Strummer On The Run» llevada a cabo por Nick Hall, busca en su última etapa financiación a través una campaña de «crowdfunding»,  iniciativa abierta en internet a aportaciones de todos los interesados a través de la página web de la película https://www.ineedadodge.com/contribute.html.
Joe Strummer, uno de los creadores del Punk Rock y líder de la mítica banda The Clash, que estuvo en activo durante una década y que tras escuchar a The Rolling Stones, se planteó formar parte de la historia de la música, aportando su atractivo pensamiento, de su pacifismo y rechazo de cualquier guerra, de la formación del grupo 101'ers y luego de The Clash en 1977, de su itinerario rebelde en los sesenta (con los movimientos hippie y okupa), de su don para componer letras de gran calado, de su odio a las drogas y al mundo del consumismo y el dinero, de su propia pose personal y de sus crisis musicales y vitales, de sus colaboraciones con el cine y de la creación de su banda postrera, The Mescaleros.
The Future Is Unwritten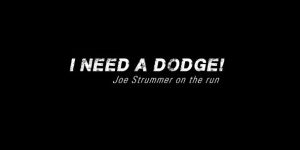 Radio 3 – I Need a Dodge! en 'Hoy Empieza Todo' from Tindog films on Vimeo.