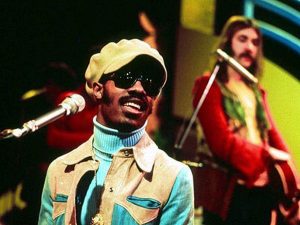 Stevie Wonder celebra hoy su aniversario de nacimiento, icono de la música popular norteamericana, absoluto genio del Rhythm & Blues, Soul y Funk, mezclado con Reggae, Jazz y Afro, activista, único músico en vida que ha ganado más premios Grammy, veinticinco, símbolo de Motown, ciego de nacimiento, reflejan en su música alegría y positivismo.
The Rolling Stones es la única banda que Stevie Wonder permitió que tocara después de sus conciertos, eso fue durante la legendaria gira The Rolling Stones American Tour 1972, y en el que los Stones presentaban Exile On Main St. The Rolling Stones presentaron en el Rock & Roll Hall of Fame a Stevie Wonder en 1989.
Stevie Wonder, «Little Wonder Stevie», como le conocían, con nueve años sabía tocar la armónica, el piano y la batería en la iglesia de su barrio, y es comienzos de los años 60 cuando Berry Gordy, el magnate de Motown se lo llevaba a su fábrica de talentos.
Stevie Wonder, tras dos primeros álbumes influenciados por el Jazz, firmaba en 1963 "Recorded Live: The 12 Year Old Genius", que ofreció 'Fingertips, Part 2 ' (la versión extendida de la armónica instrumental) del single 'Fingertips'.
Stevie Wonder comenzó a estudiar piano clásico, y en 1964 lanzaba "Uptight (Everything's Alright)", obteniendo un éxito masivo, el grandioso viaje a la fama acababa de comenzar.
«Superstition, You Are The Sunshine Of My Life, A Living In The City, Higher Ground, You Haven't Done Nothin', Boogie On Reggae Woman, I Wish y Sir Duke, I Was Made To Love her, For Once in My Life, My Cherie Amour, Signed, Sealed, Delivered, I´m Yours, Ebony & Ivory, Happy Birthday, I Just Called To Say I Love You, o That's What Friends Are For», son algunos de los ejemplos de su inmensa discografía.
Stevie Wonder, innovador de los sintetizadores en los años 70 que cambió la configuración del Rhythm & Blues mediante el empleo de una amplia gama de texturas y voces en sus canciones.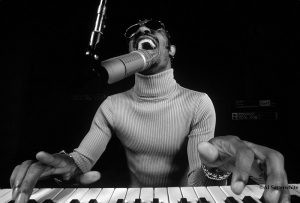 Stevie Wonder en la década de los años noventa se reconvertía y fusionaba el Hip Hop con su música, en el 2004 recibió el premio Johnny Mercer Award, en reconocimiento a su fantástica carrera, siendo el primer afroamericano en ganarlo.