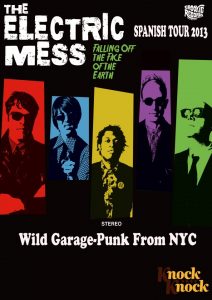 The Electric Mess estarán de gira por España con cinco conciertos programados a partir del 14 de mayo en León hasta el 18 en Barcelona del mismo mes para presentar su segundo álbum "Falling Off the Face of Earth", tras su primer álbum homónimo de los neoyorquinos "The Electric Mess" del 2010.
The Electric Mess, una banda salvaje de Rhythm & Blues, Punk y Psicodelia comandada por la vocalista Chip Fontaine, Oweinama Bi, Dan Cro, Derek Davidson y Craig Rogers, en el que han sabido mantenerse fieles a esos cánones básicos de influencias Rock de los 70, la New Wave, el Eock progresivo, o el Surf, de cuatro acordes que les ha mantenido en una posición importante en las ligas menores del Underground norteamericano.
"Falling Off the Face of Earth", es un disco sudoroso y que rompe el hielo desde su primera escucha, guitarras llenas de ácido,voces furiosas y no pocos pasajes de psicodelia enardecida, sabiendo que vamos a recorrer un camino diferente y que en su visita a Portugal y España quieren jugar en competiciones mayores.

Escucha "Falling Off the Face of Earth", de The Electric Mess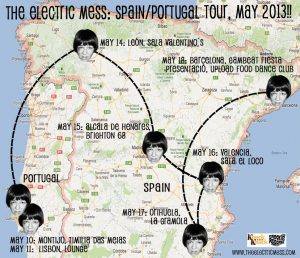 Fechas de la gira española de The Electric Mess
Martes 14 Sala Weekend (León)
Miercolés 15 Sala Brighton 68 Alcala de Henares
Jueves 16 Sala El Loco Valencia
Viernes 17 La Gramola Orihuela
Sábado 18 Sala Upload, Fiesta Presentación Gambeat Weekend