The Ballroom Kings cierran una nueva edición del Jazzharrean Alde Zaharreko Jazz Jaialdia 2013, junto con el espectáculo Burlesque de la prominente Evita Mansfield, y dos sesiones de dj's con Birdy y Swingin' Mammy O en la sala Helldorado de Vitoria el próximo viernes 12 de julio a partir de la nueve y media de la noche.
The Ballroom Kings proceden de Italia y muchos de sus músicos llevan más de veinte años en el negocio, su música es pura diversión, Rhythm'n'Blues, Swing, Boggie-Woogie y Rock'n'Roll de la vieja escuela con su líder Vincenzo Puleo al piano,  y cantante Máximo Rocca.
The Ballroom Kings lo componen  Máximo Rocca a las voces, Luca Ciriacono (Contrabajo) y Giovanni Ziino (Batería), Vincenzo Puleo (piano),  Marco Gioe´(Guitarra), Carmelo Sacco (Saxo tenor), Michele Mazzola (Saxo alto), Alfonso Vella (Saxo barítono) y "Ballroom Queen" Ylenia Mannisi (segunda voz).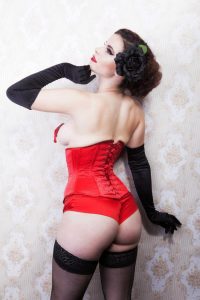 Evita Mansfield pondrá la nota picante de la noche con su espectáculo Burlesque, Evita es la artista de burlesque española más importante y reconocida mundialmente, creadora del espectáculo Tease & Cheese, que se inaugura el 21 de septiembre en Upload Barcelona, inspirándose siempre en los años 40's y 60's.