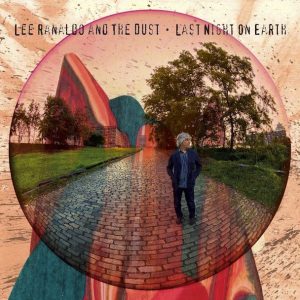 Lee Ranaldo el guitarrista y compositor de  Sonic Youth publica hoy 8 de octubre «Last Night on Earth» , tras «Between the Times and the Tides» (2011), junto a su banda The Dust (el batería de Sonic Youth Steve Shelley, Alan Licht y Tim Lüntzel), álbum debut con su nuevo grupo compuesto por nueve canciones y acompañado también de una gira mundial que comienza hoy en Nueva York hasta el próximo 13 de diciembre parando en Canadá, y Europa a partir del 11 de noviembre sin fechas por España.
Lee Ranaldo, uno de los miembros fundadores de Sonic Youth visitó España el pasado mes de abril y en junio pasado publicó un nuevo libro titulado «Road Movies», en el que el artista recoge con textos escritos a mano sus largas giras en hoteles y autobuses, plasmándolo en unos textos directos y descarnados, herederos de la más pura tradición beatnik, ofreciendo al lector una antología de poemas y prosa poética que se presenta por primera vez en castellano, a través de sus 156 páginas.
Lee Ranaldo está reconocido como uno de los mejores guitarristas de la historia del Rock, organizador y productor de conciertos de música improvisada acompañado de artes visuales, ha publicado más de cincuenta obras en solitario, tanto con varias bandas, colaboraciones y una docena de libros, incluyendo revistas de viajes, poesía y libros de artista.
Escucha el nuevo disco de Lee Ranaldo & The Dust «Last Night on Earth».
Tras la pausa de Sonic Youth en noviembre de 2011 Lee Ranaldo lanzó su primer álbum en solitario con canciones acústicas titulado «Between the Times and the Tides» para Matador Records con grandes colaboraciones como las de  Jim O'Rourke, los batería deSonic Youth Steve Shelley y Bob Bert, Nels Cline de Wilco, Alan Licht, John Medeski y el bajista Irwin Menken.
Lee Ranaldo and The Dust Tour 2013,  fechas de la gira 2013:
10-08 Hudson, NY – Club Helsinki
10-09 Buffalo, NY – Tralf Music Hall
10-11 Toronto, Ontario – NXNE/Horseshoe Tavern
10-12 Detroit, MI – Trinosophes
10-13 Chicago, IL – Empty Bottle
10-14 Madison, WI – High Noon Saloon
10-15 Minneapolis, MN – Triple Rock Social Club
10-17 Iowa City, IA – Gabe's Oasis
10-18 Omaha, NE – The Waiting Room
10-19 Lawrence, KS – The Bottleneck w/ Built to Spill
10-20 St. Louis, MO – The Firebird w/ Built to Spill
10-22 Nashville, TN – Exit/In
10-23 Asheville, NC – The Grey Eagle
10-25 Brooklyn, NY – The Bell House
11-10 Groningen, Netherlands – Vera Euser
11-11 Hamburg, Germany – Kampnagel
11-12 Berlin, Germany – TBC
11-13 Cologne, Germany – Gebaude 9
11-14 Metz, France – Le Musee De Cour D'or
11-15 Metz, France – Caveau Des Trinitaries / Musique Volantet Festival
11-17 Lausanne, Switzerland – Le Romandie
11-18 Feyzin, France – L'Epicerie Moderne
11-20 Villeneuve D'Asq, France – Festival Tour De Chauffe
11-21 London, England – The Garage (NME Radar Night)
11-22 Camber Sands, England – ATP
11-23 Paris, France – BB Mix Festival
11-25 Poitiers, France – Confort Moderne
11-26 Tours, France – Temps Machine
12-06 Portland, OR – Doug Fir Lounge
12-07 Vancouver, British Columbia – The Biltmore Cabaret
12-08 Seattle, WA – Barboza
12-11 San Francisco, CA – The Chapel
12-13 Los Angeles, CA – The Echoplex