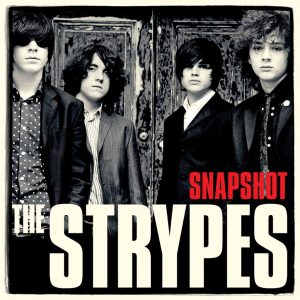 The Strypes debutaron el pasado nueve de septiembre con "Snapshot", un fantástico disco producido por el aclamado Chris Thomas (Beatles, Sex Pistols, Elton John, Pulp, U2, Pink Floyd, Roxy Music, Brian Setzer, etc) y en el que ahora los irlandeses se presentan en España con dos conciertos teloneando para Artic Monkeys el 15 de noviembre en Madrid y el 16 en Barcelona.
Niguno de los miembros del cuarteto The Strypes llegan a la mayoría de edad, 18 años, incluso uno de ellos tiene 16 años, y desde muy jovenes, 2008 comienzan su andadura musical inspirados por el Blues añejo, Rock and Roll y Rhythm & Blues de la vieja escuela y el Garaje Rock más frenético, Elton John le echaría un ojo a la banda para ficharlos para su compañía Rocket Music Management en el 2012.
Escucha el disco debut de The Strypes "Snapshot".
Escuchen "Angel Eyes", "She is so Fine" o "What a Shame" para daros cuenta de la energía que despiden estos irlandeses que rezuman claramente influencias Yardbirds y The Rolling Stones, sus versiones del "Rollin' and Tumblin" de Muddy Waters , el "You Can't Judge a Book By the Cover" Willie Dixon o el "Heart of the City" de Nick Lowe, son realmente apabullantes.
Fechas de la gira española de The Strypes abriendo para Artic Monkeys:
Madrid, 15 de noviembre (Palacio de Deportes)
Barcelona, 16 de noviembre (Palau Olimpic de Badalona)