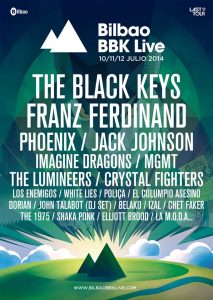 Bilbao BBK Live 2014 en su octava edición confirman a The Black Keys, Elliott Brood, Franz Ferdinand, The Lumineers, Phoenix, Imagine Dragons, Crystal Fighters, MGMT, Jack Johnson, Los Enemigos, Belako, The 1975, Shaka Ponk, White Lies, Poliça, John Talabot, Chet Faker, Izal, La MODA (La Maravillosa Orquesta Del Alcohol), Dorian y El Columpio Asesino, entre los días 10 y el 12 de Julio de 2014 en Kobetamendi (Bilbao).
El festival Bilbao BBK Live 2014, organizado otra edición más por Last Tour International, ha puesto a la venta un bono de tres días a 90 euros más gastos de distribución (seis euros), en la que para acceder a la zona de acampada los días del festival se tendrá que pagar cinco euros adicionales. Dicho bono se podrá adquirir utilizando la Bizkaiko Kultur Txartela de categoría B.
En cuanto a los horarios del Bilbao BBK Live, Franz Ferdinand actuará el jueves a las 22.35 horas, mientras que The Prodigy y The Black Keys lo harán ya pasada la medianoche del viernes 11 y el sábado 12, respectivamente.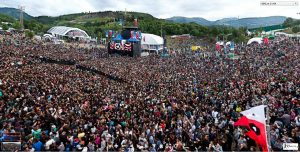 El Festival Bilbao BBK Live 2014 ha dado a conocer las fechas de su edición 2015, a poco más de 24 horas para arrancar su novena edición, que tendrá lugar desde mañana jueves hasta el sábado día 12. Así, el décimo aniversario del festival tendrá lugar del 9 al 11 de julio de 2015, y desde mañana mismo se pondrán a la venta los primeros bonos para la próxima edición.
Horarios del bilbao bbk live, 10, 11 y 12 de julio en Kobetamendi, Bilbao
Jueves, 10 de julio, 17.00 Apertura de puertas
Escenario Bilbao (stage 1)
18.10 Parquet Courts
20.00 John Newman
22.35 Franz Ferdinand
1.40 Crystal Fighters
Escenario Heineken (stage 2)
17.30 Future of The Left
19.00 White Lies
21.05 Vetusta Morla
0.20 Phoenix
Escenario Sony (carpa)
17.40 Eskean Kristö
19.00 Allen Stone
21.35 Hercules & Love Affair
0.25 The Last Internationale
3.00 Dorian
4.10 Kostrok
5.30 This not way Djs
Red Bull Studio Live
3.00 ZA!
4.15 Los pilotos
5.50 The Suicide of Western Culture
Viernes, 11 de julio, 17.00 Apertura de puertas
Escenario Bilbao (stage 1)
18.20 The 1975
19.55 Bastille
22.25 Foster The People
0.20 The Prodigy
Escenario Heineken (stage 2)
17.30 Chet Faker
19.05 Frank Turner & The Sleeping Souls
21.05 Jack Johnson
1.55 Palma Violets
Escenario Sony (stage 3)
17.40 Dawes
19.05 Conor Oberst
21.15 Izal
1.55 El Columpio Asesino
3.00 Baio
4.20 Sine3
5.40 Croissants Djs
Red Bull Tour Bus
18.20 Animic
20.00 IEPI
Red Bull Studio Live
3.00 Clip! (live)
4.00 Pional
5.30 El Txef_a
Sábado, 12 de julio, 17.00 Apertura de puertas
Escenario Bilbao (stage 1)
18.20 Elliott Brood
20.00 Los Enemigos
22.15 The Lumineers
0.10 The Black Keys
Escenario Heineken (stage 2)
17.30 Smoke Idols
19.05 Skaters
21.00 Band of Horses
1.45 MGMT
Escenario Sony (stage 3)
17.45 The Rebels
19.05 Belako
20.55 Kuroma
1.55 La M.O.D.A.
3.00 Por confirmar, en sustitución de Chromeo DJ Set
4.20 John talabot dj set
5.40 WLDV
Red Bull Tour Bus
18.20 M A J E S T A D
20.00 Fira Fem
Red Bull Studio Live
3.00 Kresy
4.20 Headbirds
5.40 Cardopusher