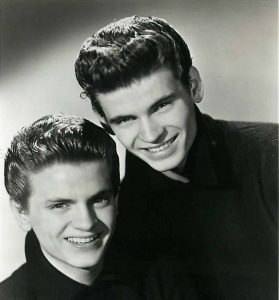 Phil Everly la otra mitad de The Everly Brothers falleció ayer viernes 3 de enero de 2014 a los 74 años de edad, el hermano menor de quizás el dúo más influyentes de la historia del Rock, grandes admiradores de The Louvin Brothers por sus arreglos vocales y su amor por el Folk, Country, Gospel y Bluegrass junto a su hermano mayor Don Everly que tiene en la actualidad 76 años.
The Everly Brothers consiguieron en 1958 cuando el Rock & Roll comenzaba a asomarse, fundir el Country y el Rock de los cincuenta, ejerciendo incluso muchísima influencia sobre Elvis Presley y otros grandes como The Beatles, Bob Dylan, Keith Richards, Gram Parsons, David Crosby, Simon & Garfunkel, Graham Nash, Nick Lowe, The Beach Boys o Dave Edmunds.
The Everly Brothers junto a Buddy Holly o Roy Orbison fueron más allá con su música en el Rock´N´Roll siendo una influencia directa en el devenir de lo que se llamaría posteriormente el Pop.
The Everly Brothers absorvieron desde muy pequeños toda la música de raíces norteamericana desde un programa de radio junto a sus padres, en el que progenitor fue un guitarrista de Country muy respetado en la época, y que invitaba al programa a músicos tan respetados e importantes como Merle Travis y Chet Atkins, quien llevaría a los Everly al Grand Ole Opry, el gran templo de la música Country en Nashville, apoyándose siempre en sus idolatrados Delmore Brothers, los Louvin Brothers y los Blue Sky Boys.
The Every Brothers revolucionaron el mundo del Rock and Roll con su dulces melodías y armonías vocales simplemente perfectas, y su dulzura y cariño inigualable con canciones como «Bye Bye Love», «Wake Up Little Sussie», «All I Have To Do is Dream», «Poor Jenny», «When Will I Be Loved», «When I Will Be Loved», «Till I Kissed You», «Bird Dog», «Take a message to Mary», «Leave my woman alone», o «Crying in the rain» entre otras muchas.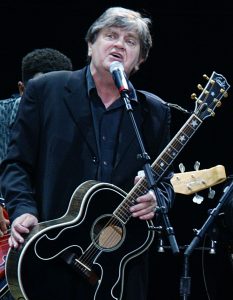 Característico de The Everly Brothers eran sus voces nasales y agudas y que a pesar de la calidez de sus voces, las drogas y otras crisis lo llevaron a sortear varios socavones en su carrera musical, y muchísima gente no los veía como unos niños tan buenos, Keith Richards de eso sabe mucho, ferviente admirador de los Brothers.
The Everly Brothers durante casi diez años, periodo entre 1957 y 1965, fueron una auténtica locomotora de fabricar éxitos, cambiando el modo de entender la música Country y el Blues, coloreándola de una placenteraa fuerza melódica, pero sin sonar empalagosos ni perder el norte de sus raíces.
The Everly Brothers son de los pocos grupos del Rock en concntrar en dos minutos el sentimiento en una canción, «all you have to do is dream».
Hace muy poco se publicaba «Foreverly», un álbum grabado por Norah Jones y Billie Joe Armstrong, cantante de Green Day, versionando a The Everly Brothers del álbum «Songs Our Daddy Taught Us» (1958). Escucha «Foreverly» clicando en éste párrafo.
In Memoriam.