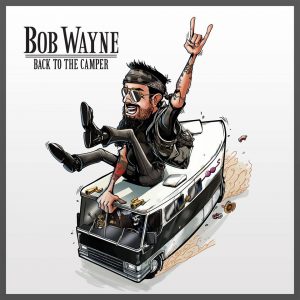 Bob Wayne  junto a sus The Outlaw Carnies regresa a España en mayo y junio para presentar su sexto y nuevo disco en directo titulado «Back To The Camper» que será publicado el 21 de abril de 2014, álbum producido por Andy Gibson y grabado en Nashville, steel guitar de la banda de  Hank III y que cuenta con las colaboraciones del legendario cantante de Country Red Simpson y la joven cantante Elizabeth Cook en la canción «20 Miles To Juarez».
Bob Wayne y Elizabeth Cook en «20 Miles to Juarez»
Bob Wayne «el Kris Kristofferson de nuestra generación», es otro forajido contador de grandes historias y conductor de hot rods y camionetas destartaladas, "Till The Wheels Fall Off" fue su último trabajo publicado hace dos años.
Escucha «Back to the Camper» de Bob Wayne:
Bob Wayne es otro de los referentes del Outlaw Country Punk Folk junto a cuatreros como Hank III, 375 String Band, Those Poor Bastards o Scott H. Biram. Bob siempre ofrece una buena dósis de alcohol, HillBilly, Blues, Punk de la vieja escuela, diablos, gasolina, sudor, coños, Jesucristos, alcohol, Johnny Cash, biblias, olor a gasolina y mucho sexo en el crepúsculo. ¿Quien da más?.
¡Iros al infierno!
Fechas de la gira española de Bob Wayne & The Outlaw Carnies:
28 de mayo de 2014, Explosivo Club, Zaragoza (+ Morgan O'Kane)
29 de mayo de 2014, Mastropiero, Cáceres
3 de junio de 2014, Acapulco, Gijón
4 de junio de 2014, Sala Son, Cangas Do Morrazo
5 de junio de 2014, TBC, Vitoria-Gasteiz
6 de junio de 2014, El Sol, Madrid
7 de junio de 2014, Loco Club, Valencia
8 de junio de 2014,  Rocksound, Barcelona