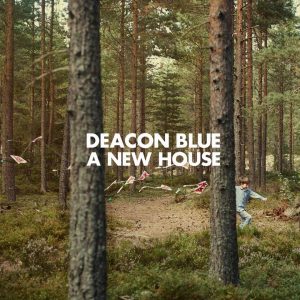 Deacon Blue, el sexteto escocés publica «A New House», su octavo disco de estudio de once canciones el próximo 8 de septiembre tras su anterior «The Hipsters» hace dos años y casi treinta años de trayectoria musical en el que a finales de los años ochenta tuvieron muchísimo éxito sus dos primeros álbumes «Raintown» (1987) y sobre todo «When The World Knows Your Name» (1989), número uno en medio mundo con canciones como «Real Gone Kid»,  «Wages Day», «Fergus Sings the Blues», «Love and Regret» o «Queen of the New Year» entre otras.
«A New House» es el primer adelanto del nuevo disco de Deacon Blue.
Deacon Blue a lo largo de su carrera ha ido cambiado de componentes a lo largo de los años tras su separación en 1994 desde que comenzaran nueve años antes con Ricky Ross, Lorraine McIntosh, James Prime y Dougie Vipond como núcleo duro de la banda de Pop Rock Folk coetáneos de una época en la que convivían junto a sus compatriotas Waterboys, Proclaimers, Fairground Attraction, Wet Wet Wet, Love & Money, Franz Ferdinand, Jesus & Mary Chain, The Silencers, Texas, Travis, Primal Scream, Simple Minds o Snow Patrol entre otros.
Listado de canciones del nuevo disco de Deacon Blue «A New House»:
Bethlehem Begins
For John Muir
A New House
An Ocean
The Living
I Wish I Was a Girl
Win
Wild
March
Our New Land
I Remember Every Single Kiss