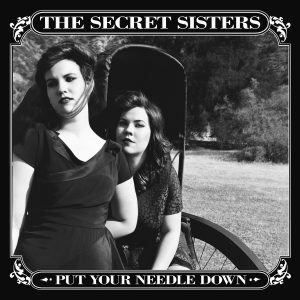 The Secret Sisters publican su segundo álbum de estudio "Put Your Needle Down", disco en el que las dos hermanas Laura Rogers y Lydia Rogers han utilizado una canción inédita de Bob Dylan "Dirty Lie", escrita por el genio en los años 80 y que nunca fue editada. T Bone Burnett produce "Put Your Needle Down". álbum de doce canciones que a diferencia del aclamado y primer álbum de las de Alabama, éste contiene más temas originales.
Escucha "Dirty Lie" de The Secret Sisters, la canción que tenía guardada Bob Dylan durate más de tres décadas.
The Secret Sisters tras debutar con su disco homónimo en el 2010, con un disco repleto de versiones de Hank Williams, Bill Monroe, Charles Laverne o Buck Owens entre otros, todo grabado en analógico y al más puro estilo de los años cincuenta.
Jack White reclutó a las hermanas Rogers, The Secret Sisters, justo antes de publicar su primer álbum de estudio en el 2010 para realizar un single para su discográfica Third Man Records con dos temas, uno de ellos el clásico de Johnny Cash "Big River" y "Wabash Cannonball" en un vinilo de 7″ con el My Morning Jacket Carl Broemel al steel guitar.
Escucha "Big River" de The Secret Sisters versionando a Johnny Cash.
"Let there be Lonely", nuevo tema de The Secret Sisters.
Tracklist de "Put your needle down" de The Secret Sisters.
1. Rattle My Bones
2. Iuka
3. Dirty Lie
4. The Pocket Knife
5. Let There Be Lonely
6. Black And Blue
7. Lonely Island
8. I Cannot Find A Way
9. If I Don't
10. Good Luck Good Night Goodbye
11. Bad Habit
12. River Jordan