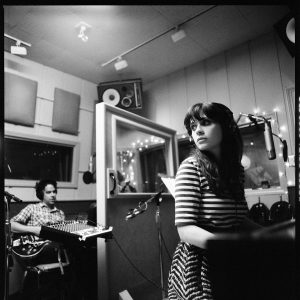 La actriz Zooey Deschanel y M. Ward en She & Him anuncian nuevo disco de versiones para el próximo 2 de diciembre titulado "Classics".
She & Him, se creó tras la colaboración de ambos Zooet y M. Ward tras participar en una canción para la película norteamericana The Go-Getter (2007), ambos se dieron cuenta que su pasión por el Folk, el Country, o el Pop de George Martin o Phil Spector, podía aprovecharse en forma de disco, y así fue como se creó su primer disco de estudio en el 2008 con "Volume One".
En el siguiente trailer She & Him presentan un extracto de una versión de Carole King "Oh No Not My Baby".
M. Ward tiene siete discos de estudio publicados hasta el momento, su último y fantástico disco "A Wasteland Companion" (2012), miembro de la súper banda Monster of Folk compuesta por Jim James de My Morning Jacket, Conor Oberst y Mike Mogis de Bright Eyes, es uno de los mejores guitarristas y compositores norteamericanos desde finales de la década de los 90's.
Escucha la versión de The Beach Boys "God Only Knows" de la voz de She & Him.
Escucha "Classics" nuevo disco de She & Him.
Escucha "Stay AWhile" el clásico de Dusty Springfield de She & Him.
Escucha "Time after Time" de She & Him.
Su técnica de tocar la guitarra con el inconfundible fingerpicking lo hace un maestro, su manera de interpretar canciones con esa voz agonizante, hacen de éste músico, uno de los mejores forajidos del sonido de raíces y música norteamericana.