"Phil Spector" es el título de la nueva película sobre el genial productor musical y que interpreta Al Pacino y Helen Mirren que encarna a Linda Kenney Baden,  abogada defensora, film para la cadena de televisión norteamerica HBO y dirigido por David Mamet, su estreno es el 24 de marzo en Estados Unidos.
Phil Spector fue declarado culpable por homicidio en segundo grado por el asesinato de la actriz de películas de series B, Lana Clarkson en el 2003, la sentencia 19 años de cárcel.
Los hechos se sucedieron en la mansión de Phil Spector que tiene en Alhambra,  ciudad al este de Los Angeles, y al sur de Pasadena, el productor conoció a la actriz en un bar de copas, aquella noche la actriz acompaña a Phil a su casa, el chófer del productor Adriano da Souza esperaba fuera de mansión, se escuchó un disparo, Lana Clarkson recibía un disparo en la boca, el propio chófer de Phil Spector llamó a la policía en el lugar de los hechos.
Tras dos juicios, uno en el 2007 y otro en el 2009 se condenó a Phil Spector de homicidio, en el juicio argumentó suicidio accidental por parte de la actriz "kissed the gun", "I think I've killed someone", fueron dos frases que se repitieron durante el juicio, la segunda frase que le dijo Phil Spector a su chófer "creo que he matado a alguien".
Phil Spector fue uno de los más grandes productores de la historia del Rock, creador del Wall of Sound, que consistía en grabar múltiples pistas de acompañamiento con guitarras acústicas y eléctricas, superponiéndolas con arreglos musicales, llegando a crear un sonido compacto y de proporciones orquestales, Leon Russel, Hal Blaine, Harold Battiste, Tommy Tedesco, Sonny Bono, Glen Campbell, Barney Kessel, o Jack Nitzsche realizaban normalmente estas sesiones.
The Crystals o The Ronettes, fueron los dos grupos donde desarrolló esa técnica con canciones como como «He's a rebel», «Uptown», «Then He Kissed Me», «There's no other (like my baby)», «Heartbreakers», «He hit me (It felt like a kiss)», «He's sure the boy I love» , «Da Doo Ron Ron», «Baby I love you», «Be my baby» o «Walking in the rain».
Phil Spector terminó por casarse con una de las Ronettes, la gran Ronnie Spector, divorciándose en 1974.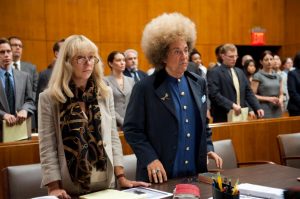 Phil Spector colaboró con The Rolling Stones en «Not fade away» y «Little by little» tocando las maracas, en «Play with fire" y «It's all over now», tocó el bajo, para Ike & Tina Turner  grabaron «River Deep, Mountain High», para The Beatles hizo los arreglos  del album «Let it Be» (1970), alabado por John Lennon, George Harrison y Ringo Starr, pero denostado por Paul McCartney, especialmente por sus arreglos en «The Long and Winding Road».
«My Sweet Lord» y los discos «All things must pass» (1970), «Concert for Bangladesh» (1971) y «Living in the material world» (1973) sus colaboraciones con George Harrison, «Wedding Album» (1969), «Plastic Ono Band» (1970), «Imagine» (1971), «Sometime in New York City» (1972), «Shaved Fish» (1975) y «Rock'n'roll» (1975) con John Lennon, en «Death of a ladie's man» (1977) con Leornard Cohen y "End of the Century" (1980) con Ramones.
Phil Spector es miembro del Rock and Roll Hall of Fame desde 1989.
Phil Spector y John Lennon en el estudio conversando.