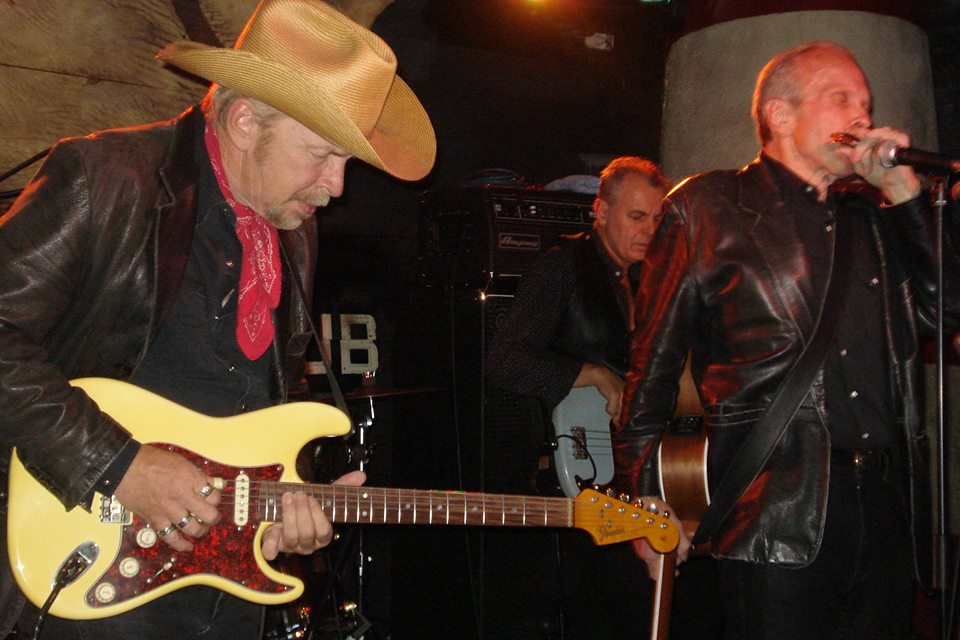 Dave Alvin y Phil Alvin retomaron los escenarios presentando su último trabajo «The Ghost Brothers of Darkland Country» y pasaron durante tres fechas por escenarios españoles. Madrid vivió con gran entusiasmo y emoción la conciliación de los hermanos Alvin la pasada noche del 5 de Noviembre. Tuvo que ser la dama de la guadaña la que hiciera de intermediaria para unir los vínculos que separaban desde hace tiempo a los hermanos Alvin. Angustiosa experiencia pasó Phil estando entre la vida y la muerte, al final salió y dio pie a juntarse de nuevo con su hermano y volver a lo mejor que saben hacer, rock and roll.
Sí, porque a pesar de la edad y los malos trechos que han pasado hay que ver la maestría y la distinción con la que se suben estos tipos a un escenario. Tablas no les faltan, experimentados en el grupo que les popularizó The Blasters, saben ajustar el mínimo elemento para consagrarse encima del escenario.
Sin palabras nos quedamos si observamos al señor Dave, sigue tan eficaz a la hora de tocar las seis cuerdas de su guitarra, su rapidez sigue tan convincente como en tiempos mozos, espléndido se mostró. Si miramos al hermano Phil, notamos un desmejorado aspecto físico pero se nos olvida cuando comienza a rasgar las cuerdas de su acústica, coge el micrófono se pone a cantar o tocar la armónica, mantiene la energía que los temas necesitan. En la retaguardia marcando los tiempos y siempre atentos a cualquier señal el grupo que los acompañan, The Guilty Ones, formación que dispone de unas cualidades merecedoras de subirse a estar entre estos dos grandes de la música americana.
Dos horas de auténticos bombazos llenos de ritmo donde no faltaron temas de blues, rock, boogie… invariables al concepto musical del sur de California. Ver a Dave y Phil en tan buena armonía hizo que todos los presentes disfrutáramos a lo grande. Que hubo tiempos mejores, por su puesto, también peores. Y como retroceder en el tiempo es cosa imposible, yo personalmente me quedo con el presente. Salud hermanos Alvin.
Texto por Ángel Manuel Hernández Montes y Carlos Pérez Báez. Fotos por Ángel Manuel Hernández Montes.