St. Paul and The Broken Bones publican "Half The City", un grandioso disco debut de doce canciones de Soul Sureño y vena de cuello hinchada al más puro estilo Fame en el que Paul Janeway a la voz, Jesse Phillips (bajo), Browan Lollar (guitarra y voces), Andrew Lee (batería y percusión), Ben Griner (trombón y tuba), Allen Branstetter (trompeta), Al Gamble (órgano y piano) y Ben Tanner, teclista de Alabama Shakes a la producción, grabaron totalmente en analógico en Single Lock Records, sello discográfico del estado de la banda, Alabama, propiedad de Ben Tanner, Will Trapp y John Paul White (The Civil Wars) en los legendarios estudios Fame en Muscle Shoals en Alabama.
Paul Janeway el cantante y líder de The Broken Bones se cultivó desde muy temprana edad cantando en las iglesias de un pequeño pueblo de Alabama, Gospel y escuchando una y otra vez al Reverendo Clay Evans, Alex Bradford, Sam Cooke, Otis Redding, James Carr, y O.V. Wright, hasta que conoció al bajista Jesse Phillips y luego a un ex guitarrista de Jason Isbell & the 400 Units Brown Lollar decidieron buscar otros tres músicos de conservatorio para formar una gran banda y empezar a grabar canciones, primero un EP de cuatro canciones y posteriormente esta maravailla llamada "Half the City".
"Half the City" el disco debut de St. Paul and The Broken Bones contó con músicos invitados como Al Gamble al piano y órgano Wurlitzer, Daniel Stoddard al pesal steel, Jamie Harper al saxo tenor y el propio productor Ben Tanner al piano y coros.
St. Paul and The Broken Bones estuvieron nominados en la edición de este año de los premios Americana Music Awards como mejor artista y banda revelación en la que ganó Sturgill Simpson y compartiendo nominación junto a Hurray For The Riff Raff, Parker Millsap y Valerie June.
St. Paul and The Broken Bones estarán en España el próximo mes de marzo el 15 y 16 en Barcelona y Madrid por primera vez dentro de su gira europea que comienza el 9 de marzo en Amsterdam, pasando por países como Bélgica, Francia, Alemania, Suiza, Noruega e Inglaterra por el momento.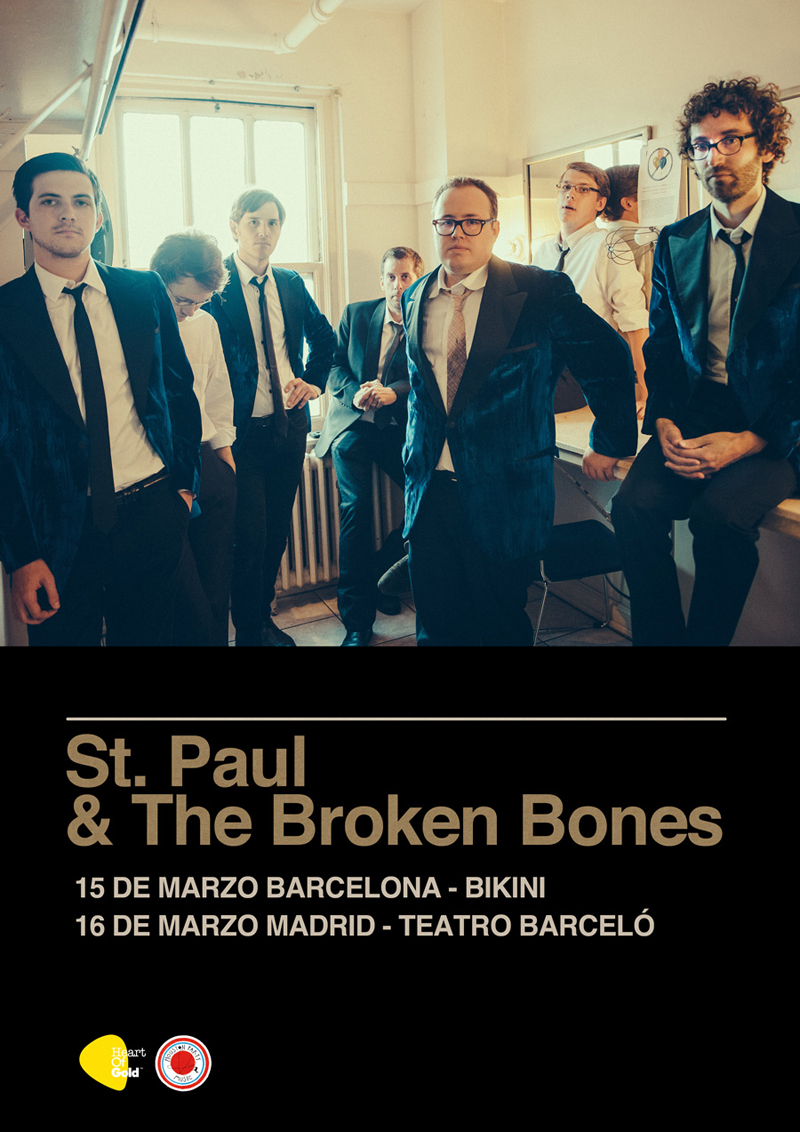 "Half the City" de St. Paul and The Broken Bones estará entre los mejores discos de 2014 sin dudarlo.
Escucha "Half The City", nuevo disco de St. Paul and The Broken Bones.
Fechas de la gira española de St. Paul and The Broken Bones.
15 de marzo en Barcelona, sala Bikini
16 de marzo en Madrid,  Teatro Barceló