Eagles of Death Metal, el dúo formado por Jesse Hughes y Josh Homme (QOTSA), atípica e inusual banda, no han lanzado un álbum desde su tercer trabajo «Heart on» en 2008.
Este año están de vuelta con un buen numero de fechas y un nuevo single que acaba de salir este martes llamado «Complexity» adelanto del nuevo álbum de la banda que se titulara «Zipper Down».
Eagles of Death Metal, pasarán el próximo sábado 20 de Junio por Azkena Rock Festival, atentos por si Josh Homme da la sorpresa y se presenta en el bolo de Vitoria, como hizo el pasado 6 de Junio en París, aunque rara vez toca en directo con el resto de la banda, dejando su impronta casi en su totalidad en estudio y en los cachondos y alocados vídeos que facturan.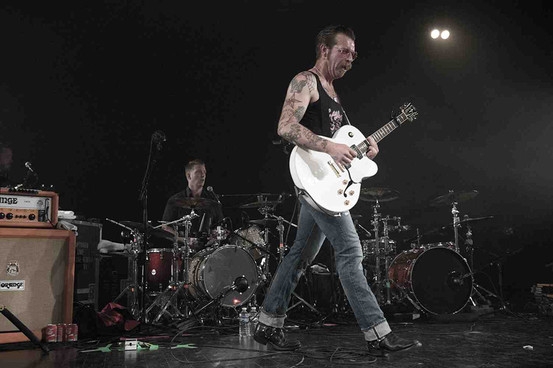 TOUR DATES:

06-16 Glasgow, Scotland – The Garage 

06-17 London, England – KOKO 

06-19 Mérignac, France – Krakatoa

06-20 Vitoria, Spain – Azkena Rock Festival 

06-22 Bologna, Italy – Botanique 

06-23 Zagreb, Croatia – INmusic Festival 

06-25 Werchter, Belgium – Rock Werchter 

06-27 Norrköping, Sweden – Bravålla Festival 

06-28 Odense, Denmark – Tinderbox Festival

06-29 Berlin, German – Huxleys 

06-30 Prague, Czech Republic – Lucerna Music Bar 

07-02 Gdynia, Poland – Open'er Festival 

07-04 Luxembourg, Luxembourg – Rock A Field 

07-05 Belfort, France – Eurockéennes

07-06 Milan, Italy – Carroponte 

07-07 Dornbirn, Austria – Conrad Sohm 

07-09 Novi Sad, Serbia – Exit Festival 

07-10 Trencin, Slovakia – Pohoda Festival 

07-12 Tel Aviv, Israel – Barby 

07-14 Athens, Greece – Fuzz Club 

07-16 Hegyalja, Hungary – Kingdom of Hegylja Festival 

08-27 Albuquerque, New Mexico – Launchpad

08-28 Denver, CO – Riot Fest 

09-01 Portland, OR – Wonder Ballroom 

09-02 Seattle, WA – The Showbox

09-03 Vancouver, British Columbia – Commodore Ballroom 

09-08 Winnipeg, Manitoba – Pyramid Cabaret 

09-09 Minneapolis, MN – Varsity Theater 

09-11 Chicago, IL – Riot Fest 

09-12 Detroit, MI – The Underground Arts

09-15 Washington, DC – 9:30 Club

09-19 Toronto, Ontario – Riot Fest 

10-24 Sacramento, CA – Aftershock Festival 

10-31 Leeds, England – Beckett University 

11-01 Norwich, England – Norwich UEA LCR 

11-02 Bristol, England – O2 Academy Bristol 

11-04 Southampton, England – Engine Rooms 

11-05 London, England – The Forum 

11-06 Birmingham, England – The Institute 

11-07 Manchester, England – The Ritz 

11-09 Newcastle Upon Tyne, England – O2 Academy Newcastle 

11-11 Glasgow, Scotland – O2 ABC 

11-13 Paris, France – Le Bataclan 

11-14 Tourcouing, France – Le Grand Mix 

11-17 Cologne, Germany – Essigfabrik 

11-18 Zürich, Switzerland – Komplex Klub 

11-19 Munich, Germany – Kesselhaus 

11-22 Bremen, Germany – Aladin 

11-30 Vienna, Austria – Arena 

12-07 Nimes, France – La Paloma