El pasado sábado 25 de julio tuvimos en Valencia una gran fiesta de rockabilly y rock and roll donde de nuevo tuvimos a algunos de los mejores músicos del género como son True Blue Trio y Big 54.
En primer lugar tuvimos el gran concierto de TRUE BLUE TRIO,proyecto de Pike Cavalero,Pepe Lee y Héctor (Little Boy Arnold) con un show de rockabilly clásico y estupendos temas bien seleccionados del mejor rockabilly que se grabaria en los 50 en compañias como Sun o Starday por ejemplo, tocando temas como Gone Baby Gone (Ray Smith), My Woman (Burrie Manso) ,My baby done gone away (Al Ferrier), I'm Through (Sleepy LaBeef),Get With It (Charlie Feathers), Baby Let's Play House (grabado por Elvis,Scotty y Bill), When It Rains It Really Pours (Billy The Kid Emerson), True Blue (Frankie Miller), Blue Suede Shoes de Carl Perkins o Slow Down de Jack Earls por ejemplo ,temas de rockabilly de la década de los 50 con tres músicos que han formado proyectos como Pike Cavalero, Sun Rockets o Little Boy Arnold & The Western Oakies y que ya son parte de la historia de esta música en el país.
Tras el concierto de TRUE BLUE TRIO, vimos la gran actuación de Big 54, proyecto en conjunto de Miguel Ángel (voz y guitarra) y Lucky (batería) (Cat Club) con Celso (The Racers) al piano y Migue al contrabajo (Los Renegados,Capitán Bang).
El grupo se decantaba por realizar versiones de clásicos pero con el toque de Miguel Ángel Escorcia y porque no decirlo en la onda Stray Cats caracteristica de las formaciones de Miguel Ángel.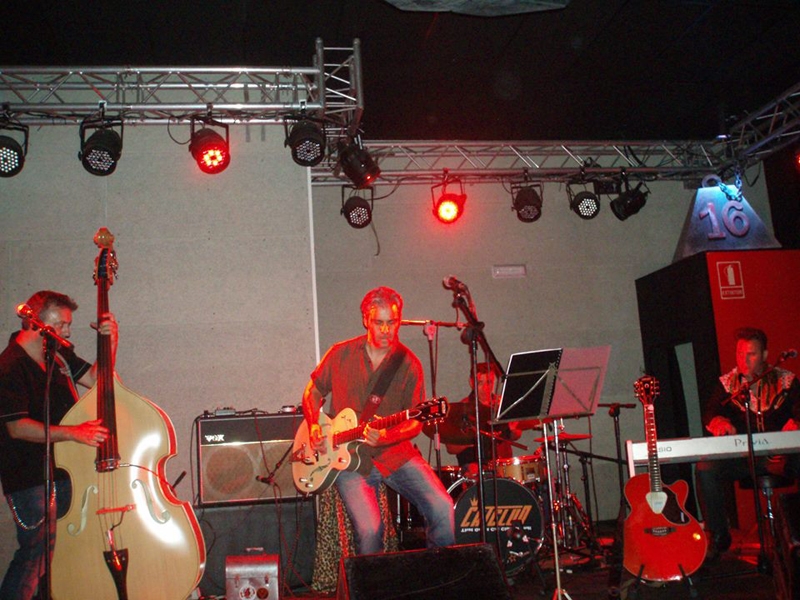 No faltaron temas de todos los grandes desde el Red Hot (Billy The Kid Emerson), con el que comenzaron, Rockhouse (Harold Jenkins), Rock'n'Roll Ruby/Ubangi Stomp (Warren Smith), Matchbox (Carl Perkins), Ready Teddy (Little Richard), Jeannie Jeannie Jeannie (Eddie Cochran), Race with the devil (Gene Vincent), Skinny Jim (Eddie Cochran), Your True Love (Carl Perkins), Whole Lotta Shaking Going On (Jerry Lee Lewis),o Confidente de secundaria (Teen Tops)….temas muy bien ejecutados por una banda compenetrada al máximo, destacando todos sus componentes pero especialmente Miguel Ángel con su guitarra Gretsch y Celso al piano que ejecutaria a la perfección varios temas de Jerry Lee Lewis incluso tocando subido al taburete.
Y tras el bolo llegaría una sesión a cargo de Quique y Raúl, llamados en este caso Sixty Minute Dj's, que darian el broche final a una gran noche dedicada a este género musical en Valencia.
Texto y fotos de Alex Ruiz (Boppin Cat).