Cáceres Blues Festival 2015 se celebrará durante el 1, 2, 3 y 4 de Octubre. La sexta edición del Cáceres Blues Festival llevada a cabo por la Asociación de Amigos del Blues de Cáceres únicamente tiene como objetivo principal el organizar un Festival Internacional de Blues en la ciudad de Cáceres, seis ediciones abalan este gran evento.
Para esta sexta edición cuentan con la presencia de un más que apetecible cartel, pasarán por el escenario del Cáceres Blues Festival 2015  el acordeonista J.T. Lauritsen que vendrá acompañado por The Travellin´Brothers, los armonicistas Memo González acompañado por la formación The Bluescasters y Mingo Balaguer acompañado por el gran guitarrista Pablo Sanpa y la contundente sección rítmica de los hermanos Sergio Bárez al bajo y Pablo Bárez a la batería.
También estarán presentes Charly González & The Crazy Blues, la gran voz de Dani Wilde, Chino & The Big Bet, Wax & Boggie, Barra & Blues que abrirá los conciertos del viernes y el sábado y Anaut que será el grupo que abrirá el jueves esta sexta edición del Cáceres Blues Festival.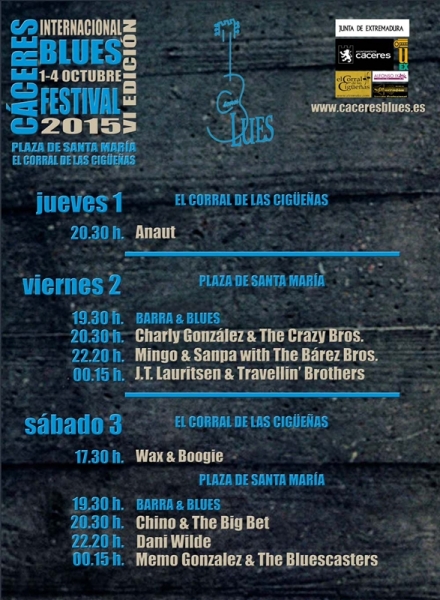 Para mayor información consultar  https://www.caceresblues.es/