Lonnie Mack cantante y soberbio guitarrista de música de raíces norteamericana murió anoche a los 74, fallecimiento eclipsado por el deceso de Prince mismo día. Lonnie Mack fue pionero en la evolución del Blues Rock en la década de los sesenta de los tocando tocado con su inconfundible guitarra, una Gibson Flying V del 58, con su sonido compulsivo e irreproducible.
Lonnie Mack compró la séptima Flying V del primer modelo y serie que se fabricó, guitarra que nació en 1958, con un diseño futurístico para la época y además con un sonido poderoso que de inmediato capturó la atención de muchos músicos, entre ellos los precursores de sonidos y estilos, figuras que influenciaron muchos guitarristas como por ejemplo Albert King, Dave Davis (The Kinks), Jimi Hendrix, Michael Schenker (UFO), Andy Powell (Wishbone Ash) o Lenny Kravitz entre otros.
Los recursos técnicos que Lonnie Mack realizó con la guitarra a mediado de los años 50, eran asombrosos para su tiempo, en el cual creció bajo el ascendiente de Merle Travis y Les Paul y al cumplir 21 años a principios de la década de los sesenta firmó un contrato con Fraternity Records que dio de sí 18 singles consecutivos. Todos, a excepción de The Wham of that Memphis Man en 1964, pasaron desapercibidos a oídos del gran público.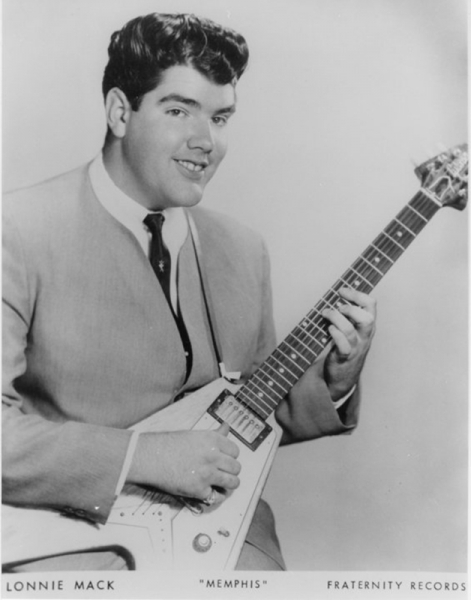 Lonnie Mack compaginó su prolífica actividad como solista con la de músico de sesión, resistiendo los envites del anonimato mientras recorría los bares y auditorios de cada pueblo y ciudad, hasta que Stevie Ray Vaughan compró un disco suyo The Wham of that Memphis Man . Cuenta la leyenda que el padre de Steve Ray rompió aquel disco de tantas veces que su hijo lo pinchaba en su casa.
Escucha The Wham of that Memphis Man (1964)
Strike like lightning disco de Lonnie Mack lanzado en 1985 sería producido por Stevie Ray Vaughan quien ademas toca la guitarra en dicho disco.  Glad I´m in the band (1969), The hills of Indiana (1971) y Strike like lightning (1985), son en nuestra opinión son los mejores discos de Lonnie Mack.
The Doors, James Brown, Freddie King, Joe Simon, Ronnie Hawkins, Albert Collins, Roy Buchanan, Dobie Gray, y Stevie Ray Vaughan, entre otros, tuvieron la guitarra de Lonnie Mack en sus canciones.
Escucha Strike like lightning (1985) de Lonnie Mack