El viernes 13 de mayo del 2016 estuvimos en el Loco Club Valencia, en la presentación del tercer disco de los Mambo Jambo, formación de Barcelona volvía a la sala valenciana con su nuevo disco publicado recientemente, Jambology y nuevo repertorio formado íntegramente por los temas de este disco en Buen Ritmo.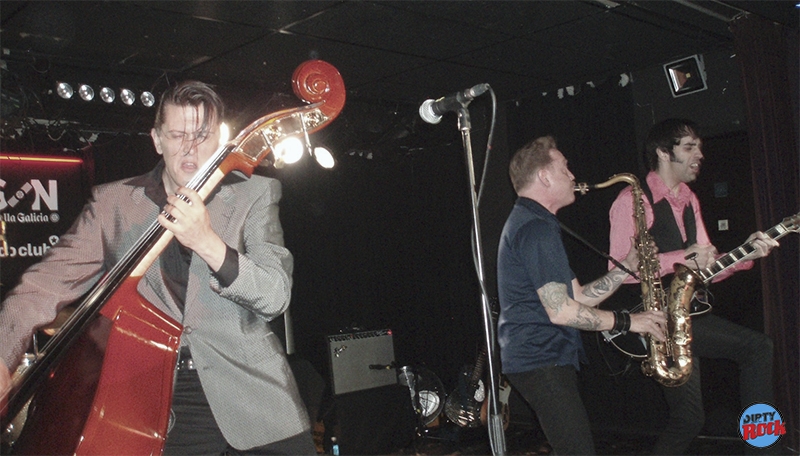 La banda formada por Dani Nel.lo al saxo (Rebeldes, La Banda del Zoco, Nick Curran, Los Lobos), Ivan Kovacevic (Nu Niles, Lazy Jumpers) al contrabajo, Anton Jarl (Tandoori Lenoir, King Nello) a la batería y su nuevo componente Dani Baraldés (El Fantástico hombre bala, La Banda del Zoco, Macaco, Raimundo Amador) a la guitarra ofreció un espectacular show, empezando con Lago salado y siguiendo con Los ases del baile, el tema que ha sido su primer single Fuego Cruzado, Gallo de pelea, Don't mess with Mr. Eddy dedicado al maestro del twang Duane Eddy, Lágrimas de neón, Blue iguana, Roadrace, El grito, Operativo en Texcoco, Jambology, Antes que amanezca, e incluso algunos temas de los discos anteriores (Los Mambo Jambo e Impacto Inminente) como Carrera de ratas, El Timo, The Whip de los Frantics, su versión del «Wham!» del recientemente desaparecido Lonnie Mack o la sintonía del «Hombre y la tierra» de Antón García-Abril con la que cerraron el bis en una noche dónde dejaron claro porque son de los mejores músicos de la escena actual de rnb y rock and roll. ¡Verdaderamente Espectaculares los Mambo Jambo!
Texto y fotos por Alex Ruiz.