¡We are Biffi fucking Clyro! con ese grito de guerra los escoceses se presentaron en el primer concierto de esta mini gira española de Biffy Clyro en Barcelona el pasado jueves 25 de enero en el Sant Jordi Club para presentar "Ellipsis", séptimo disco en estudio producido por Rich Costey (Muse, My Chemical Romance, Sigur Ros) en una fría noche en Barcelona en la que el público al filo de la locura, terminó por ser invitado al salto desde que arrancasen con «Wolves Of Winter», uno de los mejores temas de su nuevo disco Ellipsis.
Simon Neil (guitarra y voz), James Johnston (bajo y voz) y Ben Johnston (batería y voz) se juntaron en 1995 para darle vida a Biffy Clyro, desde entonces sus giros estilísticos no se han agotado, lo que permanece es su magnitud en las casi dos horas de concierto. Antes y para calentar el ambiente se subieron al Sant Jordi Club, Frank Carter & the Rattlesnakes, la banda de Frank Carter, ex líder de formaciones básicas del hardcore-punk británico de la década pasada como Gallows o más recientemente Pure Love, también verdadero torbellino sobre el escenario combinando en su repertorio punk, hard rock y algún riff metal.
Las canciones de Biffy Clyro son como pequeños episodios, tan radiales como exclusivas, la calma que nos introduce en un cuento oscuro pero amable da paso al más puro desenfreno, por parte de estos tres escoceses que azotaron sus instrumentos en Barcelona tanto como los acaricia por parte de esta formación repleta de matices.
Las composiciones con constantes quiebres y bruscas transiciones, desde una guitarra y Simon en solitario a entradas con riffs atronadores a banda completa, fueron un deleite para los seguidores que corearon a todo pulmón temas como Mountains, Re-Arrange, That Golden Rule o Many of Horror o la más reciente "Black Chandelier".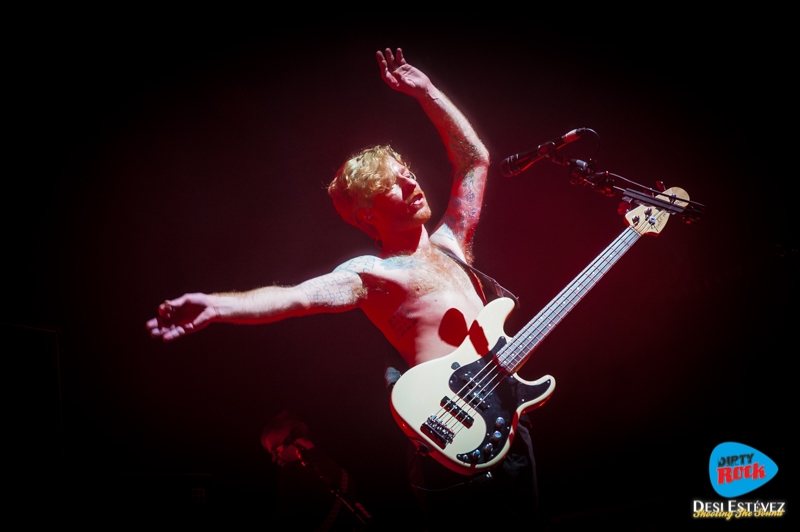 Si no hay una nueva ocasión, no serán pocos los que recordarán este concierto como uno de los mejores al que han asistido, resaltando la captura de toda la gama de florituras estilísticas dentro de cada canción, de los himnos del estadio a las baladas acústicas y una experimentación más peculiar como en el tramo final de su concierto con la apacible Machines y vuelta otra vez a los infiernos de Biffy Clyro con Animal Style y Stingin' Belle de sus dos últimos trabajos.
Fotos de Desi Estévez y texto por Suzanne Candle.