Thee Gravemen regresaron al Loco Club de Valencia el pasado 2 de noviembre tras su paso por el WACHINA WACHINA, su fantástica actuación en Magazine Club, y la actuación que Lee Tea hizo en 16 toneladas mismamente para presentar su nueva referencia My Witch.
El dúo sueco procedente de Malmö compuesto por Lee Tea y Daz Trash desplegaron todo su poderío con esa explosiva mezcla de garage-blues primitivo y rockabilly. Un repertorio en este primer concierto de su mini gira de tres conciertos en España, actuando también en Pedreguer y Alicante el 3 y 4 de noviembre, los suecos interpretaron temas propios y versiones tratadas con exquisita contundencia, haciendo un repaso a sus temas ya conocidos.
Música que combinaba con letras y sonidos con temática de películas de terror y serie b, trash rock and roll. Lee Tea a la voz y guitarra, y Darren Mr. Daz Trash a la bateria, con amplia trayectoria en formaciones como The Branded, Thee Exciters o Skitzo ofrecieron una gran actuación en Valencia ante el público con ganas de pasárselo bien.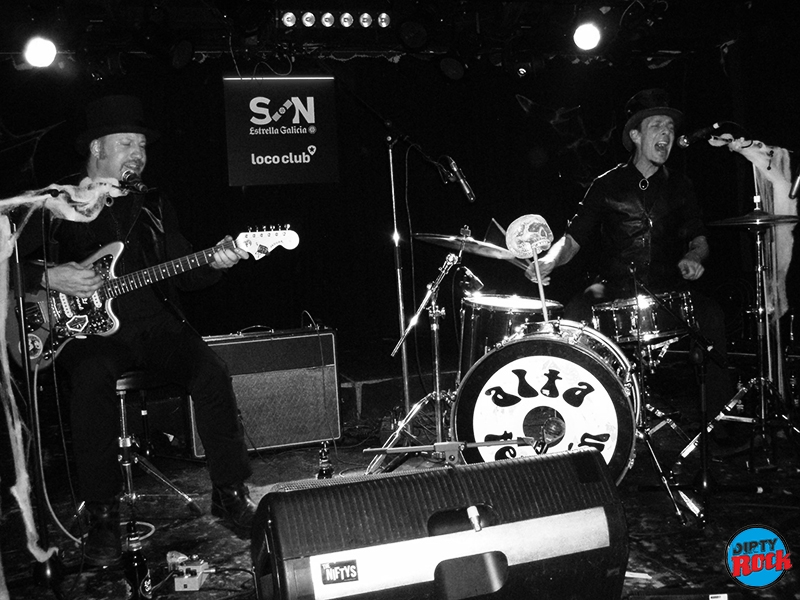 Lee y Darren, se conocieron en un pub británico de esa ciudad sueca y empezaron haciendo un homenaje a Johnny Cash. Son los máximos responsables de la organización del festival Munster Raving Loony Party.
Texto y fotos por Alex Ruiz.