Urge Overkill han cancelado sus compromisos tras sufrir uno de sus miembros un ataque al corazón. Eddie "King" Roeser ha sufrido recientemente un ataque al corazón y se encuentra actualmente en su casa en Chicago recuperándose. El grupo estadounidense ha tenido que cancelar los dos conciertos que tenía programados para el Azkena Rock Festival 2018.
El concierto que tenían previsto ofrecer el viernes 22 de junio será sustituido por el que darán Girlschool, una de las bandas femeninas más destacadas en los setenta que este año celebra su 40 aniversario. Girlschool es una banda británica de heavy metal conformada solo por mujeres, originarias del movimiento NWOBHM (New Wave of British Heavy Metal). Disfrutaron de algún éxito comercial a inicios de los ochenta, aunque en la actualidad tienen una sólida base de fanáticos y son la inspiración de muchas bandas de rock conformadas solo por mujeres.
Guilty as Sin es el último disco de Girlschool publicado hasta la fecha en 2015, siete años después de su último trabajo con material nuevo.
El sábado el encargado de celebrar el homenaje a Tom Petty que tenía previsto el grupo estadounidense serán Carlos Vudú y el Clan Jukebox.
Carlos Vudú y el Clan Jukebox fueron la banda base que el pasado 25 de enero rindieron homenaje a Tom Petty, dinamizando a compañeros como M-Clan, Los Zigarros, Morgan – Music, Mikel Erentxun, Rebeca Jiménez, Lichis, Ruben Pozo, Josu García, Pablo Martin, Burning, Alejo Stivel, Nat Simons, Elsanto, Joaquín Talismán, Los Secretos, etc.
Carlos Vudú se mueve en el terreno del rock clásico de raíz americana, con un amplio espectro sonoro, equilibrando la balanza de las influencias anglosajonas de ambos lado del Atlántico. Todo esto acompañado de unos textos con una gran carga poética, continuando así con la tradición de grandes compositores en el mundo del rock en castellano. Carlos Vudú y el Clan Jukebox presentaron hace tres años Gigantes, su segundo LP después de su álbum de debut Cartas Marcadas (2011).
El viernes y sábado tras los conciertos de la Virgen Blanca, proponen a Broken Brothers Brass Band para amenizar la espera del festival y tomarán las calles de Vitoria-Gasteiz con su cóctel de jazz, góspel y funk al puro estilo Nueva Orleans.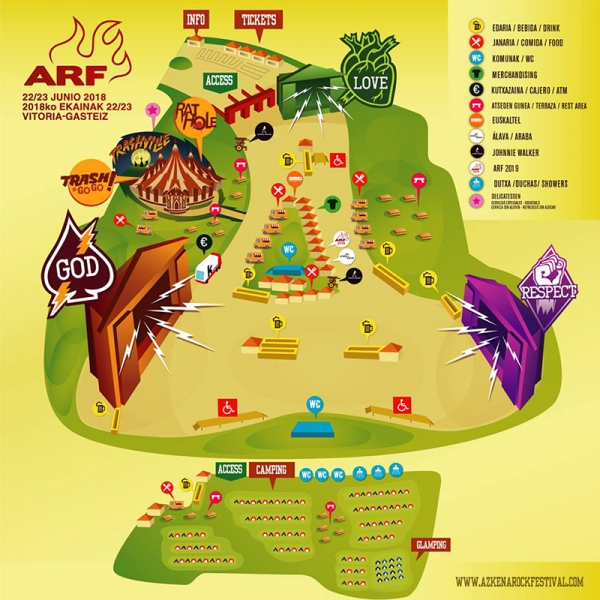 Si quieres leer la crónica de la pasada edición del Azkena Rock Festival 2017, clica en éste párrafo.
HORARIOS AZKENA ROCK FESTIVAL 2018
VIERNES 22 de JUNIO
Plaza de la Virgen Blanca (gratuito)
13:30 THE SHEEPDOGS
MENDIZABALA
17:00 Apertura de puertas
God
18:20 THE SHEEPDOGS
20:15 VAN MORRISON
23:00 CHRIS ROBINSON BROTHERHOOD
02:00 GIRLSCHOOL
Respect
17:30 THE SOUL JACKET
19:15 RIVAL SONS
21:50 DEAD CROSS
00:40 MC50- Tour 50 aniversario
Love
17:45 TUTAN COME ON
19:15 THE ALLNIGHTERS
21:30 THEE HYPNOTICS
23:30 MAN OR ASTRO-MAN?
01:30 NEBULA
Trashville- Trash A Go Go!
19:00 HOMBRE LOBO INTERNACIONAL
21:00 THE SENSATIONAL SECOND COUSINS
23:00 BLOODSHOT BILL
01:00 THE 5.6.7.8'S
03:00 DIEGO RJ
05:00 TONI LOVE
Trashville- Rat Hole
20:00 y 22:00 THE YELLING KITCHEN PRINCE
02:00 TOMÁS COWABUNGA
04:00 J.F. LEÓN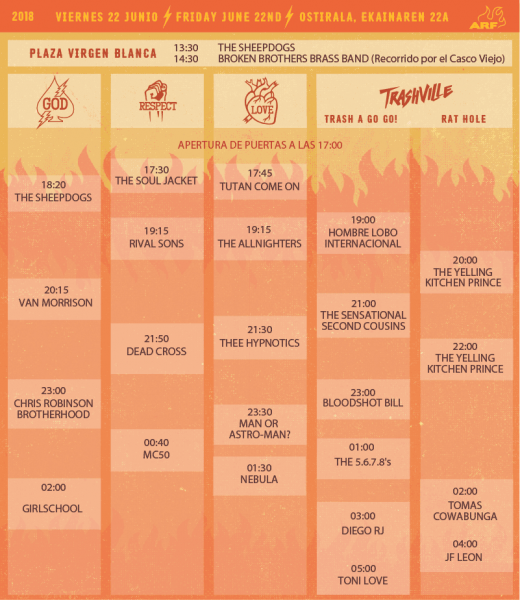 SÁBADO 23 de JUNIO
Plaza de la Virgen Blanca (gratuito)
13:30 THE JAMES TAYLOR QUARTET
MENDIZABALA
17:00 Apertura de puertas
God
18:05 LORDS OF ALTAMONT
20:00 MOTT THE HOOPLE
23:05 JOAN JETT AND THE BLACKHEARTS
02:00 GLUECIFER
Respect
17:30 MAMAGIGI'S
18:55 BERRI TXARRAK
21:20 TURBONEGRO
00:40 THE BEASTS OF BOURBON
Love
18:00 NUEVO CATECISMO CATÓLICO
20:00 SOL LAGARTO
22:00 THE DREAM SYNDICATE
01:00 Carlos Vudú y el Clan Jukebox plays TOM PETTY, más invitados
Trashville- Trash A Go Go!
19:00 HUGO RACE & MICHELANGELO RUSSO
21:00 DEAD ELVIS & HIS ONE MAN GRAVE
23:00 WOLFWOLF
01:00 REVEREND BEAT-MAN feat. SISTER NICOLE IZOBEL GARCIA
03:00 EL VIEJO ZORRO Y LA GALLINA
05:00 PARTY HARD DJ
Trashville- Rat Hole
20:00 y 22:00 THE YELLING KITCHEN PRINCE
02:00 FERNANDO NAVARRO
04:00 AC/DJ