El viernes 26 de octubre tuvimos en Peter Rock Club en Valencia un buen concierto de una estupenda vocalista como es la británica Aisha Khan en el marco de su gira nacional.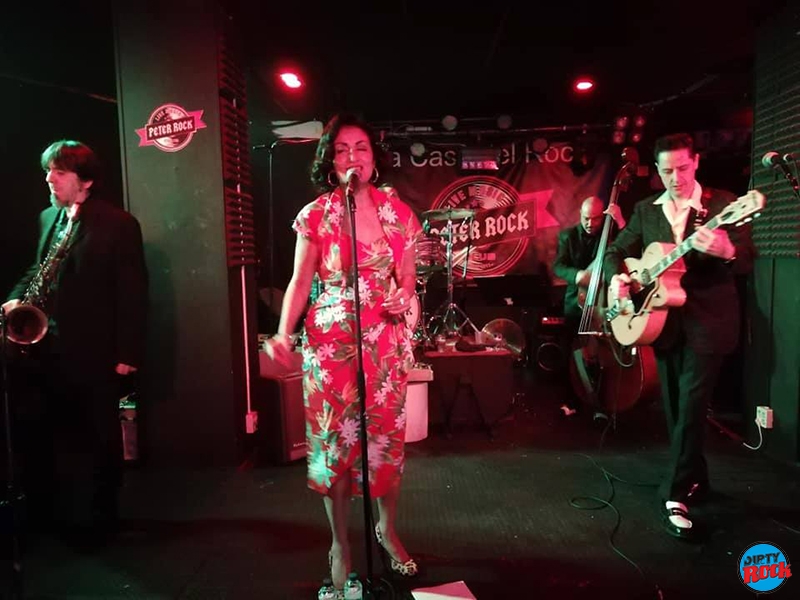 Aisha Khan and the Rajahs actuaban en la ciudad levantina presentando su nuevo lp Aishadicction en El Toro Records de Barcelona, y estuvo acompañada de Jordi Blanch al saxo tenor (The Excitements), Carlos Santos (saxo baritono), Xavi Castillo (contrabajo) , Xavi Roman a la guitarra (Anita O'Night & The Mercury Trio) o Moisés Sorolla a la batería (Los Rebeldes) y con gran repertorio de temas de rhythm and blues, Swing y Rock And Roll como My Baby Shakes It que abría ella tras salir la banda con Nervous Man Nervous de Big Jay McNeely, Good Loving, She's Mine(el Mia de los Rebeldes), Queens of rhythm, el hipnótico Invisible girl, He's my religion, Out of the blue hillbilly,She's the bomb, Aishadicction, Is Allright, Little Latin Lover, Chiquita mía de Chris Montez o Make A Grown Man Cry uno de los grandes temas que tenemos en el trabajo.
Gran show de una magnífica voz de rhythm and blues y rock and roll a cargo de Aisha Khan.
Texto y fotos por Alex Ruiz.