Paul Collins uno de los pioneros del power-pop y quien fuera fundador de las míticas bandas The Nerves y The Beat, estará de gira por nuestro país en febrero y marzo presentando su nuevo disco, el magnífico «Out of my Head».
El de Nueva York inicia su gira por España con banda americana, con el batería original de The Beat incluido. El cantante, percusionista y guitarrista neoyorquino presentará sus once cortes inéditos repleto de energía, sencillez y buenas maneras.
Al frente de The Nerve y The Beat, Collins se caracterizó por alumbrar canciones que no hacían concesiones comerciales. Ese espíritu underground nunca interfirió en su exquisita forma de acunar la melodía. 40 años después, su nombre sigue incrustado entre los más influyentes de la historia del power pop, un género que combina la frescura cristalina de The Beatles con la contundencia del rock..
Si Alex Chilton, Gene Clark, Rick Nielsen, Nick Lowe, Adam Schlesinger o Ben Kweller son solo algunos de los genios que han engrandecido la historia del power pop, Collins se dio a conocer gracias a The Nerves, grupo de culto que lo reunió junto con otros dos increíbles talentos: Jack Lee y Peter Case (que más tarde formaría The Plimsouls); su único EP contiene cuatro absolutas bellezas melódicas de las cuales destacan "When You Find Out" y sobretodo la frenética "Hanging On The Telephone" (que llegó a convertirse en un éxito cuando Blondie hicieron una versión.
Escucha «Out of my Head» (2018) de Paul Collins
Tras de la separación de The Nerves, el músico nacido en Nueva York formó The Beat, piedra angular del power pop americano de finales de los 70. Su debut, The Beat (CBS Records, 1979) sigue siendo, hoy en día, una de las mayores explosiones de júbilo que he escuchado jamás: todas las canciones son perfectas; incluso me atrevería a decir que mientras se disfruta de "Rock N Roll Girl", "Work-A-Day World", "Don´t Wait Up For Me" o "Different Kind Of a Girl" uno se convierte en mejor persona. Es el poder del gran Paul Collins, que también se plasmó en la excelente continuación The Kids Are The Same, ya con el grupo rebautizado como The Paul Collins´ Beat.
Durante los años 80 y 90 nuestro protagonista residió en España. En aquella época grabó el mítico directo Live at The Universal, aunque también produjo algunos de los mejores trabajos de bandas como La Granja o Protones, además de grabar excelente discos para la discográfica Rock Indiana. Y entonces, en 2010, apareció el arrollador King of Power Pop! con esa portada que parecía rendir tributo al legendario número de la revista Bomp!, y, por supuesto, cargado de nuevos himnos para seguir creyendo en el mejor estilo musical de todos los tiempos: la alegría contagiosa de "C´mon Let´s Go!", el puro rock and roll a mitad de camino entre Thin Lizzy y The Raspberries que es "Doin´It For The Ladies", o la melodía llena de energía que se respira en "This is America".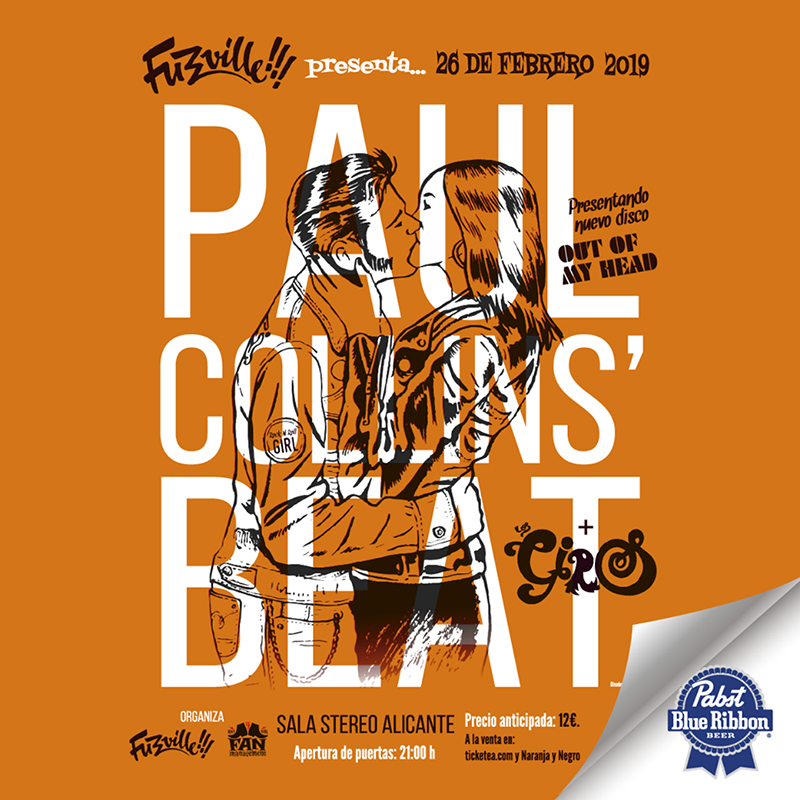 Fechas de la gira española de Paul Collins 2019:
26 febrero en Alicante, Sala Stereo (Fuzzville presenta…)
27 febrero en Valencia, Loco Club
28 febrero en Madrid, Fun House
1 marzo en Madrid, Fun House
2 marzo en Segovia, Teatro Juan Bravo