Coincidiendo con el 35 aniversario de su fundación The Quireboys acaban de lanzar "Amazing Disgrace". Excepcional disco de rock'n'roll de los británicos en su sexto álbum de Quireboys en siete años.
Primer trabajo con material original en 2 años, tras aquel álbum de blues "White Trash Blues". Guitarras, voces rasgadas, coros gospel, teclados infernales, descarado soul r&r, o funk con esa variedad de influencias y estilos, nos lleva a un alegre viaje musical y amplía nuestra idea de cómo debería sonar un álbum de Quireboys.
Spike y sus chicos continúan desafiando a todos en su mejor momento estando sobrio o después de algunas copas.
Después de 8 tumultuosos meses con robos personales, instrumentos y mercadería robados, este proyecto maldito "Amazing Disgrace" es posiblemente uno de los mejores álbumes que han lanzado en sus 35 años de historia, y 29 años después de su debut con "A Bit of What You Fancy".
"Amazing Disgrace" demuestra ser un trabajo más diverso y experimental, grabado en los legendarios estudios de Rockfield en Gales, donde se grabaron discos de Dave Edmunds, Black Sabbath, Robert Plant, Motörhead, Queen u Oasis entre otros.
Spike, Guy Griffin, Paul Guerin Dave McCluskey (batería) y Gary Ivin (bajo) dan juego con su característico sonido clásico, más una sección de vientos, cuerdas y coros a través de su arrogante del blues gitano, honky tonk entremezcladas con exquisitas armonías. Escucha "Eve of the Summertime" o "Seven Deadly Sins" The Quireboys son rock and roll. Fantástico disco.
The Quireboys estarán presentando su nuevo disco "Amazing Grace" en Vigo el 25 de abril en la sala Master, 26 en Segovia en el Teatro Juan Bravo y en Irún en la Sala Tunk.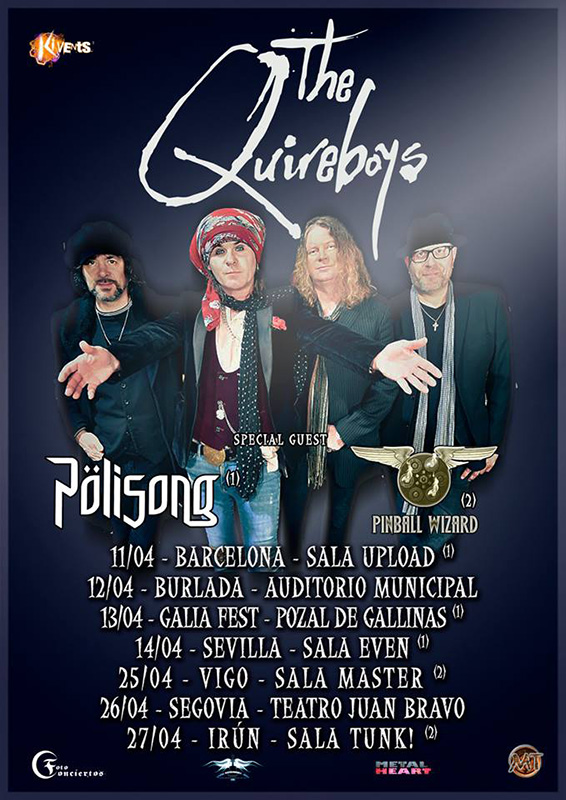 "Amazing Disgrace":
1. Original Black Eyed Son
2. Sinners Serenade
3. Seven Deadly Sins
4. Amazing Disgrace
5. Eve of the Summertime
6. California Blues
7. This is it
8. Feels like a long time
9. Slave #1
10. Dancing in Paris
11. Medusa My Girl