La decimoctava edición del Azkena Rock Festival acogerá en sus 5 escenarios los días 21 y 22 de junio al que se podrá acceder desde las 17:00 horas cada día, desvela sus horarios y la distribución de artistas por los escenarios God, Respect, Love y las dos carpas de madera de Trashville que, además de la ya anunciada programación musical, vuelven a ofrecer lucha extrema mexicana.
Más de 40 nombres del que disfrutará la parroquia azkenera esos dos días con los únicos conciertos en nuestro país de Stray Cats, Wilco, Tesla, The B-52s celebrando su 40 aniversario, The Cult en plena gira 'A Sonic Temple' con motivo de los 30 años, Lucero, Meat Puppets, The Living End, Surfbort, Blackberry Smoke, o Deadland Ritual.
Philip H. Anselmo & The Illegals, que llegan con un setlist formado exclusivamente por temas clásicos del repertorio de Pantera, Melvins, Neko Case, Starcrawler o Tropical Fuck Storm entre otros.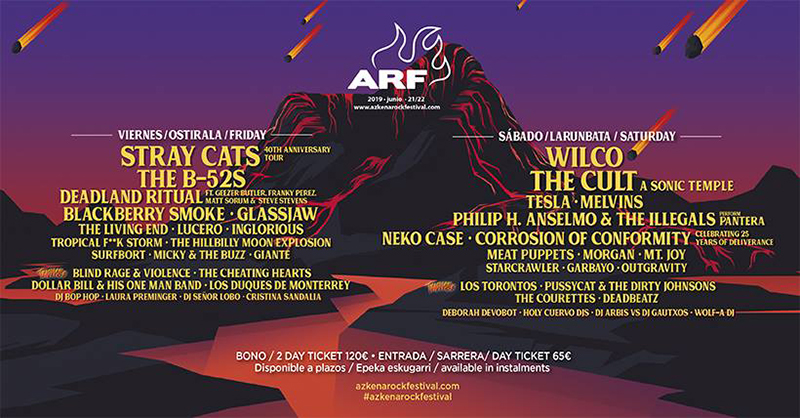 AZKENA ROCK FESTIVAL
21 y 22 de junio de 2019
Mendizabala, Vitoria-Gasteiz
Viernes 21
God
17:30 MICKY & THE BUZZ
19:15 THE LIVING END
21:45 STRAY CATS
00:40 THE B-52S
Respect
18:20 SURFBORT
20:35 DEADLAND RITUAL
23:20 BLACKBERRY SMOKE
02:00 GLASSJAW
Love
18:00 GIANTE
19:15 INGLORIOUS
20:45 LUCERO
23:15 TROPICAL FUCK STORM
02:00 THE HILLBILLY MOON EXPLOSION
Trashville- Trash a go-go!
19:00 DOLLAR BILL & HIS ONE MAN BAND
21:00 THE CHEATING HEARTS
23:00 LOS DUQUES DE MONTERREY
01:00 BLIND RAGE & VIOLENCE
02:30 DJ BOP HOP
04:30 CRISTINA SANDALIA
Trashville- Rat Hole
18:30 LUCHA EXTREMA MEXICANA
20:30 LUCHA EXTREMA MEXICANA
23:30 LUCHA EXTREMA MEXICANA
02:15 LAURA PREMINGER
04:15 DJ SEÑOR LOBO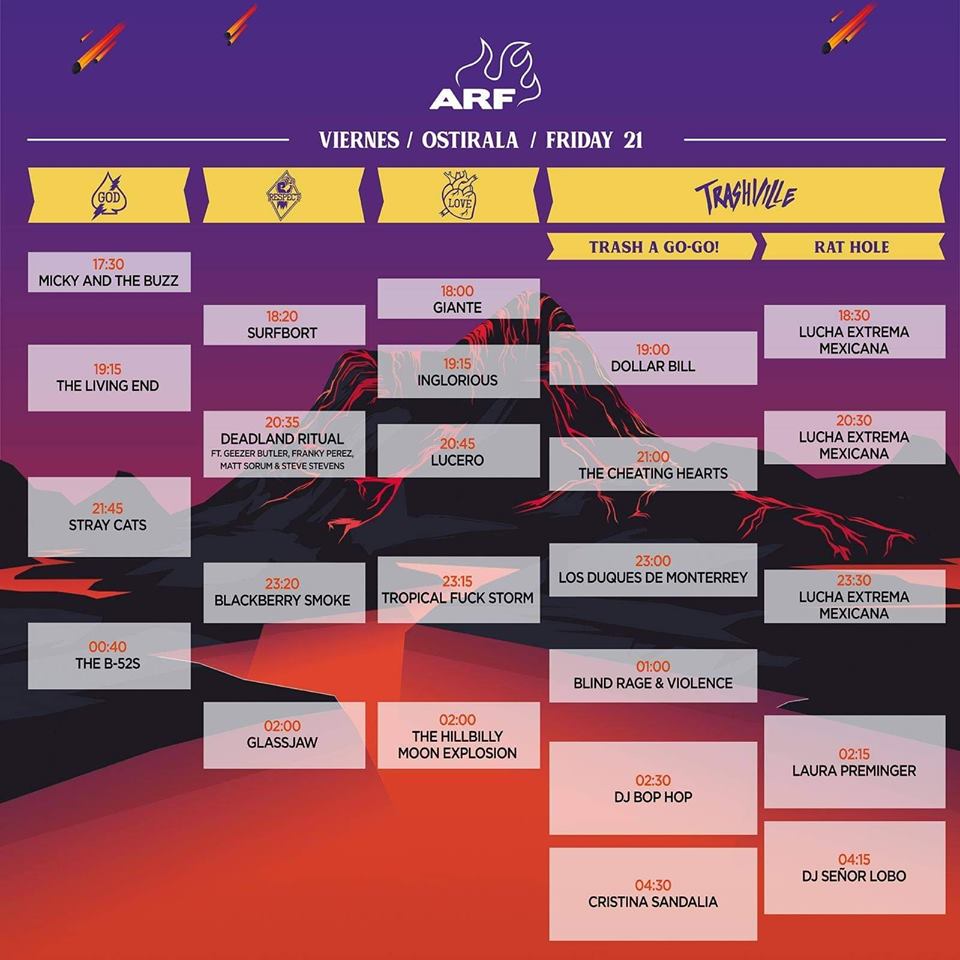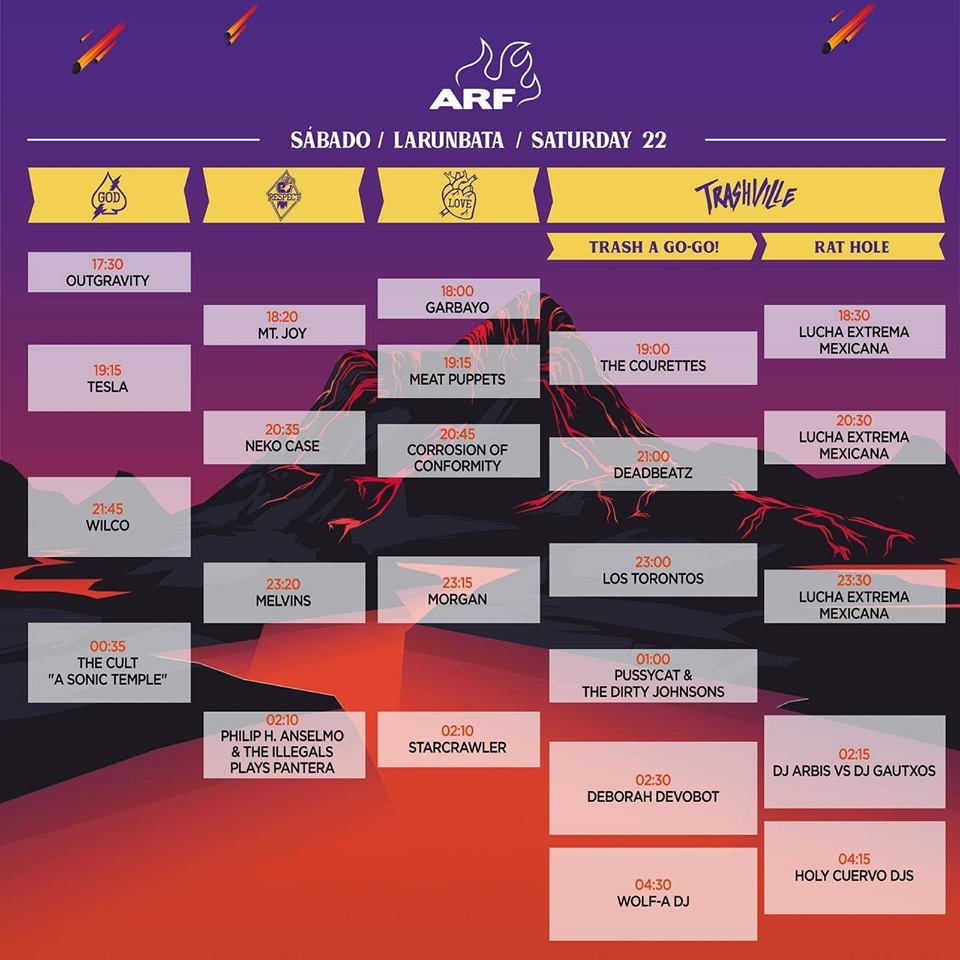 Sábado 22
God
17:30 OUTGRAVITY
19:15 TESLA
21:45 WILCO
00:35 THE CULT 'A SONIC TEMPLE'
Respect
18:20 MT. JOY
20:35 NEKO CASE
23:20 MELVINS
02:10 PHILIP H. ANSELMO & THE ILLEGALS
Love
18:00 GARBAYO
19:15 MEAT PUPPETS
20:45 CORROSION OF CONFORMITY
23:15 MORGAN
02:10 STARCRAWLER
Trashville- Trash a Go-Go!
19:00 THE COURETTES
21:00 DEADBEATZ
23:00 LOS TORONTOS
01:00 PUSSYCAT & THE DIRTY JOHNSONS
02:30 DEBORAH DEVOBOT
04:30 WOLF-A DJ
Trashville- Rat Hole
18:30 LUCHA EXTREMA MEXICANA
20:30 LUCHA EXTREMA MEXICANA
23:30 LUCHA EXTREMA MEXICANA
02:15 DJ ARBIS vs DJ GAUTXOS
04:15 HOLY CUERVO DJS
Bono: 120€
Bono + Camping: 130€
Entrada de día: 65€