Previo al concierto de James Armstrong, Ramón del Solo anuncia las próximas actividades que van a tener lugar en el Centro Cultural del Torito de Moratalaz gracias a la Moratalaz Blues Factory y al Ayuntamiento de Moratalaz: Black Haulers el 27 de marzo, Mike Sánchez el 17 de abril y Jontavious Willis, el 19 de mayo, dónde daremos el pistoletazo de salida para la celebración del III Festival Internacional de Blues de Moratalaz que como todos los años tendrá lugar en el Parque de la Cuña Verde.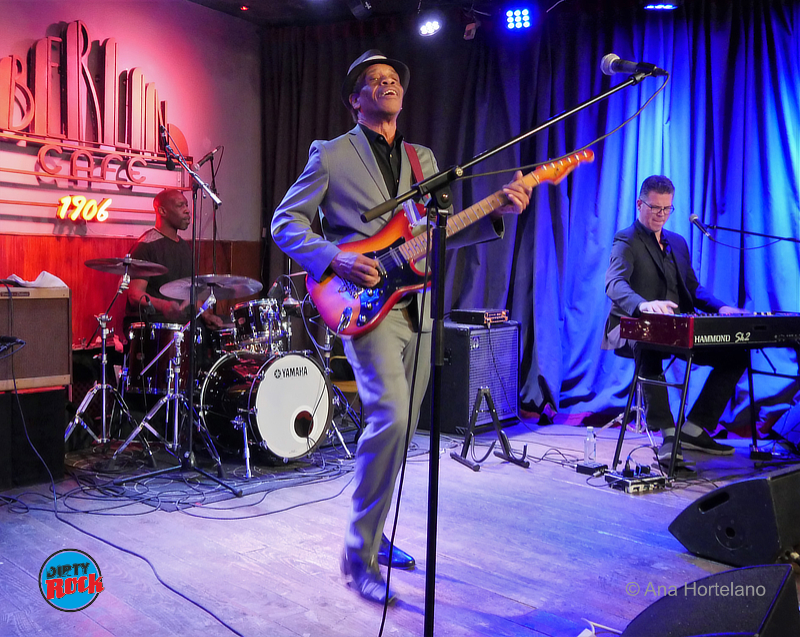 El Café Berlín y Soundealers presentaron el pasado 6 de febrero a este guitarrista estadounidense, James Armstrong. Hijo de un guitarrista de Jazz y una cantante de Blues se forjó en la superación. Derrocha una gran cercanía con el público y es muy campechano. Le acompañan a los teclados, James Alfredson y a la batería James Carter. Una banda extraordinaria y potente que bien podría llamarse The James Band. Juntos hacen un Blues de altísima calidad, interpretando temas actuales y que aparecen en el disco publicado en 2017 «Blues Been Good to Me», cuando el Blues te hace feliz. Doce temas que hablan del amor. «Change in the Weather» es una hermosísima balada y «Sleeping with The Stranger», un recordatorio de aquel disco debut publicado en 1.995, justo antes del «incidente» y que llevaba camino de convertirse en un éxito. También otros temas ya clásicos en los que Armstrong aporta a la interpretación su toque de distinción. Sus fraseos a la guitarra son fabulosos.
«Empecé a escuchar blues a los siete años y a tocar la guitarra. Quería ser como Jimi Hendrix y tocar rock [Risas].»
Ha colaborado con músicos de la talla de Albert Collins, Coco Montoya, Keb Mo', Chaka Khan, Rickie Lee Jones, Mitch Mitchel, Shemekia Copeland o Tommy Castro.
Después de aquella noche fatídica y con mucha fuerza de voluntad y la ayuda de sus amigos Joe Louis Walker o Doug Macleod, Armstrong consiguió reaprender a tocar la guitarra y adaptar su Blues a estas circunstancias. Al verle, su mano izquierda se desliza por el traste con una suavidad increíble y sólo tres dedos crean las notas, índice, corazón y el gordo que hace de cejilla.
«Me di cuenta de que podías tocar todo un concierto en una sola clave. «¿Tocar toda la noche en clave de do?», pensé que era algo increíble.»
No duda en mezclarse entre el público y hacer entrega de su guitarra a alguna de las mujeres que se encuentran en la sala. Eloísa Cabrero fue la elegida sin él saber que es una gran cantante de Blues. Pudimos verla emocionada toda coloreada por la iluminación de la sala.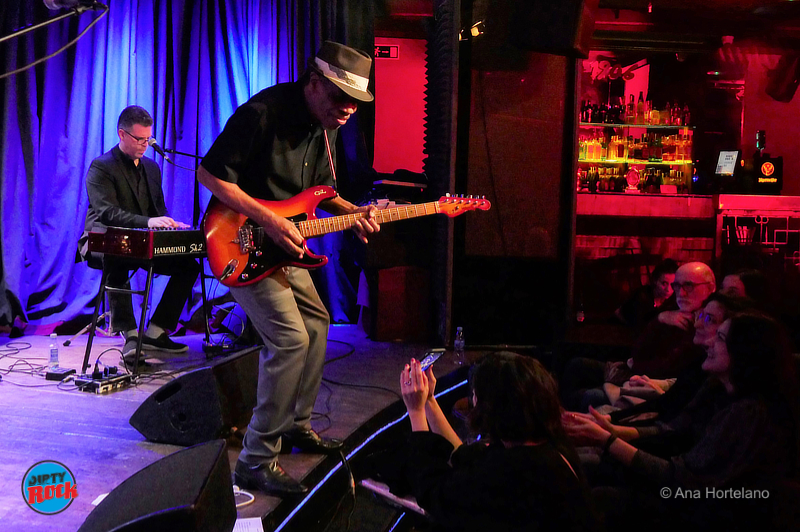 Próximas actuaciones!
Texto, Fotos y Vídeo por Ana Hortelano.