Los lunes siempre son malos, muy malos. El pasado 10 de febrero la Sala But recibía a este músico del Indie Rock, Micah P. Hinson, oriundo de Texas y felizmente afincado con su familia en Abilene (Texas). El público que acude es incondicional y año tras año vienen a dejarse sorprender por éste músico que se ha reencontrado con la vida tras años de liarse con las drogas, ser encarcelado y otras mierdas (shits!), como el mismo nos cuenta en largos monólogos entre canción y canción, aderezados por varios fucks! Nada más comenzar pide que le quiten los focos y el escenario queda reducido a un cubo gris neutro. A continuación se le acopla la guitarra, se desconecta y pide un micro. Vuelve al camerino, me he olvidado la cejilla! Saca un brick de leche comprado en un Día cercano. Coloca y recoloca las letras de sus canciones, para esquivar los olvidos. Por último saca un cigarro, rebusca entre sus bolsillos, dónde he puesto el mechero? y entre charlas y torrentes de elocuencia, cigarritos y tragos de leche, nos cuenta historias de su vida, sobre la vida en general y su música.
«Me doy cuenta de que mi música ayuda a que la gente no se sienta sola.»
«Las canciones se mueven y cambian a través del tiempo, nunca permanecen en el mismo lugar.»
Con un largo repertorio con cerca de 11 discos en 17 años, nos interpreta canciones de antes , como «Take Off That Dress for Me», «Beneath The Rose», «Patience» o «Don't You» y temas de su última publicación, «When I Shoot at You with Arrows, I Will Shoot to Destroy You» (2018), grabado en un sólo día en Texas. Son siete temas, número sagrado que hace de puente entre el cielo y la tierra, inspirados en Santiago de Compostela y grabados por músicos que no habían escuchado las canciones con anterioridad.
«Veinticinco almas, existencias, emociones, uniéndose, creando esos patrones.»

Su timbre vocal cruje como las maderas de su vieja guitarra, tan baqueteada que ha fenecido. Melodías que salen del corazón y te arrullan. Letras que hablan sobre «el canto de los perdedores, de los imperfectos, de los inmortales. De los sin techo, de los clientes de motel de carretera, de los que están dentro de un cárcel sin ser culpables ni inocentes». LLegó, se deshizo de todo lo superfluo y se quedó con lo que realmente importa a un músico: su voz, sus composiciones que encierran todo un universo, su guitarra, su manera increíble de acariciar las cuerdas, su carácter indómito y su público.
Algo tiene este hombre que una vez que le ves no le sueltas y tampoco le olvidas. En momentos puntuales reaparece y se queda un rato contigo.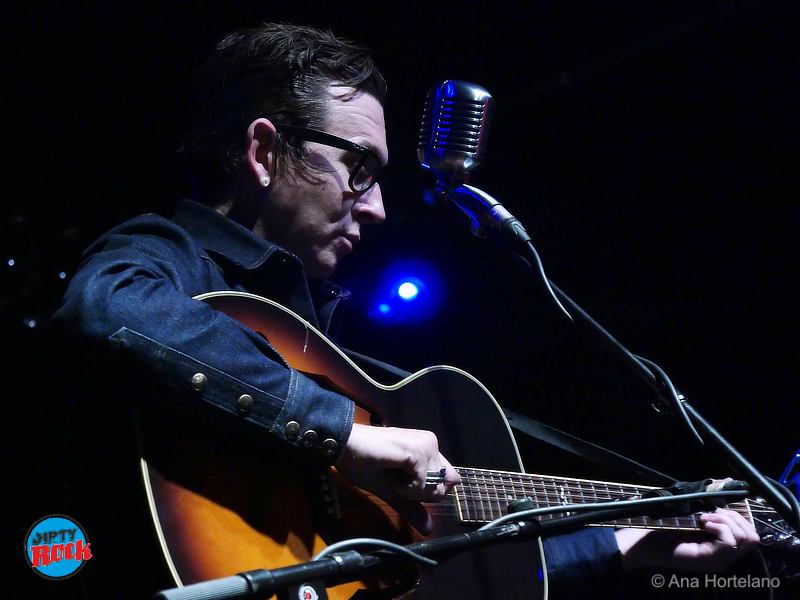 Texto, Fotos y Vídeo por Ana Hortelano