Bob Dylan publicará el álbum "Rough and Rowdy Ways" el próximo 19 de junio. Primer álbum con canciones inéditas desde "Tempest" (2012). Dylan aprovechó la noticia para desvelar un nuevo tema con aroma de blues titulado "False Prophet".
Disco compuesto por 10 temas y éste es tercer tema nuevo que presenta Dylan en el último mes y medio. "Murder Most Foul", una canción de casi 17 minutos que repasaba gran parte de la historia de Estados Unidos el pasado siglo y de "I Contain Multitudes", que tomaba su título de un famoso verso del poema "Song of Myself", de Walt Whitman.
Todavía trato de absorber todo este "Rough and Rowdy Ways" después de algunas escuchas. Bob me ha sorprendido muchas veces en los últimos cuarenta años, de buenas y malas maneras, pero no pensé que tuviera un álbum tan maravilloso y enigmático como este con casi 80 años. Si nunca hubiera escrito otra canción después de cumplir 25 años, su lugar en la historia estaría en lo más alto, seguro. Este disco consolida aún más su legado como el mejor artista con mejor discografía de la historia.
A estas alturas un artista del nivel de Dylan te va a hacer algo malo. Esta estirpe de músicos están siempre por encima del bien y del mal. Swing, canciones de cuna, blues y rhythm & blues recorren por esta hora y diez minutos. Diez reflexiones sobre las contradicciones de una América patas arriba, un disco de risas y lágrimas, de angustia y de tripas, de conversaciones con la muerte que se acerca, en este "Rough and Rowdy Ways", su primer disco con canciones originales en 8 años. De su portentosa banda compuesta por músicos arenosos que nada tienen que envidiar a The Band, capítulo aparte. Gloriosos.
Bob Dylan anunció su disco tras publicar en sus redes sociales la imagen de un "dandy esqueleto" y con una frase adjunta: "A qué estás mirando? No hay nada que ver". El cartel de la publicación de la nueva canción de Dylan, pertenece a la adaptación de una publicación llamada "The Shadow" divulgada en la década de los 30,en la que su personaje "North Woods" desde el barrio chino neoyorquino, acude a The Shadow para buscar a criminales.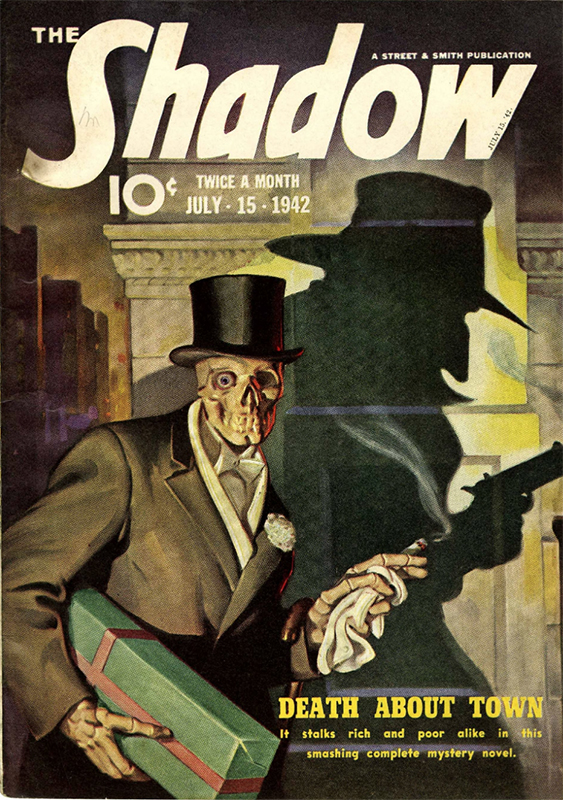 El titulo del disco "Rough and Rowdy Ways", está tomado de un temazo de Jimmie Rodgers, y "False Prophet" es otro de sus temas carpe diem, aprovecha cada día, no te fíes del mañana, disuelto en letras arenosas desgarradoras que seducen y desafían, que se remontan a la Biblia y comienzan a dar vueltas en tu cabeza: "Estoy aquí para vengarme de la cabeza de alguien, el diablo que los engañó fue arrojado al lago de fuego y azufre, donde están la bestia y el falso profeta, y serán atormentados día y noche por los siglos de los siglos. Otro día que no termina, otro barco que se va, otro día de ira, amargura y duda".
Bob Dylan quien cumplirá este mes 79 años, publicará su álbum número 39 de su carrera, tras "Triplicate" (2017) y en el que versionaba clásicos del cancionero americano, lo que se ha convertido en una constante en estos últimos años.
"Rough and Rowdy Ways", no es más que otra muesca en el revolver de alguien que ha decidido morir con las botas y el sombrero puestos, encima del escenario. Nunca fue fácil ser seguidor suyo, él ha decidido ser exigente con ellos, requiere paciencia y atención para disfrutar. "Maneras ásperas y ruidosas" de Dylan, menos en este disco en esa espiral de locura del desafine, magia musical propia de la espiral Dylaniana de locura interna, suma la carraspera al desafine para conseguir una voz que es como si te hablara el mismísimo Satanás.
"Another day that don't end, another ship going out
Another day of anger, bitterness, and doubt
I know how it happened, I saw it begin
I opened my heart to the world and the world came in.
Hello Mary Lou, hello Miss Pearl
My fleet-footed guides from the underworld
No stars in the sky shine brighter than you
You girls mean business and I do too
Well, I'm the enemy of treason, a enemy of strife
I'm the enemy of the unlived meaningless life
I ain't no false prophet, I jus' know what I know
I go where only the lonely [lowly] can go
I'm first among equals, second ta none,
The last of the best, you can bury the rest
Bury 'um naked, with their silver and gold
Put 'um six feet under, and I pray for their soul
Whatta ya looking at? There's nothing to see
Just a cool breeze that's encircling me
Let's go for a walk in the garden, so far and so wide
We can sit in the shade by the fountainside.
[instrumental break]
I searched the world over for the Holy Grail
I sing songs of love, I sing songs of betrayal
Don't care what I drink, I don't care what I eat
I climb the mountain of swords on my bare feet
You don't know me darling, ya never would guess
I'm nothing like my ghostly appearance would suggest
I ain't no false prophet, I just said what I said
I'm just here to bring vengeance on somebody's head.
Put out your hand, there's nothing ta hold
Open your mouth, I'll stuff it with gold
Ah, ya poor devil, look up if you will
The City of God is there on the hill.
[instrumental break]
Hello stranger, hello and goodbye
You rule the land, but so do I.
You lusty old mule, you got a poison brain
I'll marry you to a ball and chain.
You know, darlin', the kind of life that I live
When your smile meets my smile, somethin's got to give
I ain't no false prophet, Naw, I'm nobody's bride
Can't remember when I was born, and I forgot when I died".