"Jimmy Carter: Rock & Roll President" es el documental sobre como el rock and roll impulsó la carrera presidencial de Jimmy Carter. El documental describe cómo la genuina accesibilidad de Carter para llegar a cualquier votante, combinada con el poder unificador de la música, se convirtió en clave para que su atractivo político le permitiera que conectara con los votantes que quizás solo lo conocieran como agricultor de cacahuetes de una pequeña ciudad sureña de Estados Unidos. Su estreno será el miércoles 9 de septiembre y en televisión su estreno será a través de CNN el 3 de enero de 2021.
El apoyo de Phil Walden, fundador de Capricorn Records, representante de Otis Redding y descubridor de Allman Brothers Band, a un agricultor de cacahuetes de 51 años, ex gobernador de Georgia llevó a Walden y su talonario de cheques justo en medio de una campaña presidencial primaria después de que Carter apoyara un estricto proyecto de ley contra la piratería. Walden organizaba eventos en un club-parque de atracciones de su propiedad llamado Macon Outing Club en el que celebridades como Don King, Andy Warhol, Jimmy Carter, Bette Midler, Martin Mull, Cher y Ronnie Van Zant, combinadas con conciertos para captar votantes para la campaña presidencial llamado familiarmente Capricorn Barbecue and Southern games.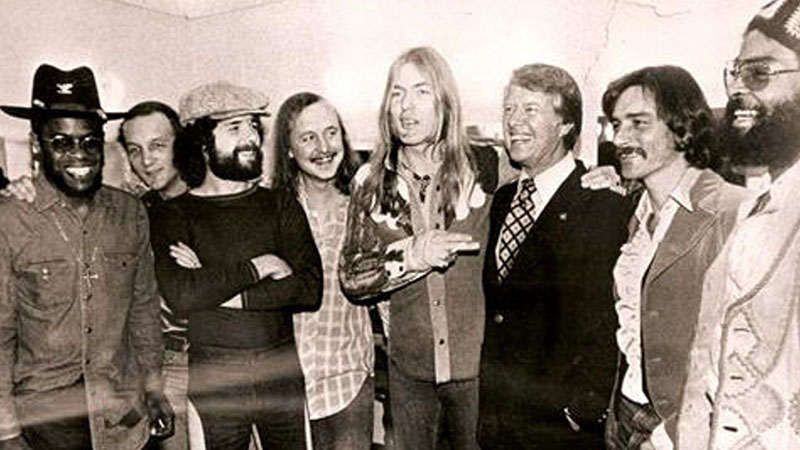 Cuando Jimmy Carter ganó la presidencia de los Estados Unidos en 1977, Gregg Allman y Dickie Betts se encontraron en aquella fiesta del presidente Jimmy Carter. Este encuentro casual les permitió zanjar sus diferencias y la banda se reformó unos meses después; sólo para hacer una actuación sorpresa de reunión en el Capricorn Picnic, y anunciando nuevo disco "Enlightened Rogues" que fue en 1979, ocho años después de su último disco juntos con los Allman Brothers.+
Su pasión por el rocanrol y la música con aquella famosa frase "Una de las cosas que ha unido a Estados Unidos ha sido la música que compartimos y amamos" le ayudó a impulsarlo a la Casa Blanca como presidente una legislatura desde 1977 hasta 1981, último presidente sureño hasta la fecha siendo gobernador de Georgia desde Andrew Johnson, 112 años después.
"Jimmy Carter: Rock & Roll President", muestra cómo la pasión de toda la vida de Carter por la música le dio una ventaja inesperada como candidato presidencial al aprovechar una fuerza que trascendía las divisiones raciales y generacionales y a menudo, líneas partidistas. El aprecio de Carter por todos los géneros de música y las amistades con celebridades como Bob Dylan, Gregg Allman, Johnny Cash y June Carter Cash, Elvis Presley y Willie Nelson ayudaron a definir su administración.
En el documental participan Willie Nelson, Bono, Bob Dylan, Garth Brooks, Trisha Yearwood, Jimmy Buffett, Rosanne Cash, Chuck Leavell, Paul Simon, Andrew Young y Madeleine Albright, alternadas con actuaciones en directo nunca emitidas y que definieron la era de archivo de Willie Nelson, Jimmy Buffett, Paul Simon y Bob Dylan, entre otros, dirigido por la directora Mary Wharton.