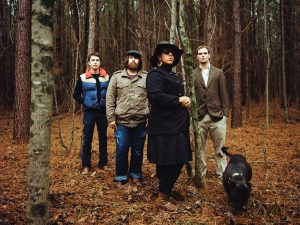 Primero James Hunter, luego Eli "Paperboy" Reed, y ahora Alabama Shakes. El Soul Clásico no ha muerto ni se repite a sí mismo ni está agotado, todo lo contrario. The Alabama Shakes vienen apadrinados por Patterson Hood, uno de los genios de Drive by Truckers, la banda favorita de Dirty.
Alabama Shakes definen su sonido como "Classic Soul", para indicar que no se identifican con el componente fashion-vintage que hay en la etiqueta de moda, "Retro Soul", utilizada mayoritariamente para referirse a esta clase de música.
Alabama Shakes proceden de Athens, Alabama, y comenzaron a hacer actuaciones por la región a mediados de 2011. La vida de Brittany Howard, de veinte y pocos años, cantante y guitarrista del grupo, está cambiando rápidamente desde que los Shakes fueran aclamados por el influyente blog Aquarium Drunkard y a raíz de ello, Patterson Hood se pusiera en contacto con ellos.
Alabama Shakes están preparando su álbum de debut: se titulará Boys and Girls y saldrá a la venta a principios de abril de 2012.
Amigos en Estados Unidos nos hablan maravillas de ellos, y a partir de ahora los seguiremos muy de cerca ¡¡nos gustan mucho!!
Vídeos grabados, como no, en F.A.M.E. (Florence Alabama Music Enterprises), la factoría del genio Rick Hall inaugurada en Florence en 1959 junto a otros tres socios y conducida en solitario a partir de 1963 en Muscle Shoals, donde comenzó la historia la hoy mítica región conocida como The Shoals.
Con ustedes, Alamaba Shakes: "I Found Your" y "Hold On".


James Hunter, Eli "Paperboy" Reed and now The Alabama Shakes are our new favourite "Classic Soul" band not Retro, supported by Patterson Hood, Drive by Truckers are in the good way, Dirty Rock´ll follow them wherever go!!
Video from Fame Factory Muscle Shoals's genious Bob Harris in Alabama.