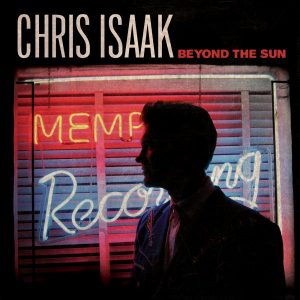 Hoy sale a la venta el nuevo trabajo del californiano Chris Isaak «Beyond the Sun», un disco lleno de rarezas de la factoría Sun Records en Memphis, homenaje desde el corazón a Johnny Cash,  Roy Orbison,  Carl Perkins,  Jerrt Lee Lewis, Sam Phillips o Elvis Presley ¡¡una auténtica joya!!
El disco saldrá a la venta en dos formatos diferentes, uno estándar con catorce rarezas de los estudios Sun en Memphis y otro formato Deluxe con otros once temas diferentes al primero, My Baby Left Me, Oh, Pretty Woman, Doin' The Best I Can, Your True Love, Crazy Arms, Lovely Loretta, Everybody's In The Mood, I'm Gonna Sit Right Down and Cry, Love Me, Doncha' Think It's Time y That Lucky Old Sun.
Última actuación de Chris Isaak en el programa de Jay Leno, el pasado 24 de octubre en los estudios NBC de Burbank de Los Angeles, CA.