Hoy sale a la venta la extraordinaria compilación de canciones llevada a cabo durante estos últimos 25 años del The Bridge School Concerts 25th Anniversary Edition organizada por Neil Young y su esposa Pegi en el colegio de Hillsborough, cerca de San Francisco.
Artistas de la talla de Bruce Springsteen, The Who, Brian Wilson, Elton John, Leon Russell, Paul McCartney, Sonic Youth, Jack Johnson, Fleet Foxes, Gillian Welch, Willie Nelson, Band of Horses, Tony Bennett, Sarah McLachlan, Metallica, Jonathan Richman, R.E.M , No Doubt  y muchísimos más, componen una edición de dos CD's con más de una veintena de canciones y otra de tres DVD's , esta última con imágenes inéditas del backstage con los artistas, entrevistas de alumnos con ellos, y documental sobre la escuela.
Puedes leer la crónica del concierto de Neil Young en su última visita a Madrid en 2008 aquí.
Para escuchar los CD1 y CD2, completos, visita la siempre maravillosa NPR.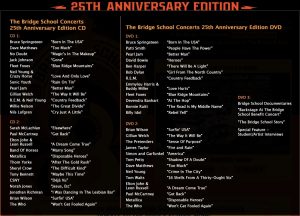 Haz clic en la imagen de la derecha para verla más grande y poder leer los nombres de los artistas que participan en esta recopilación del 25º aniversario de The Bridge School Concerts.