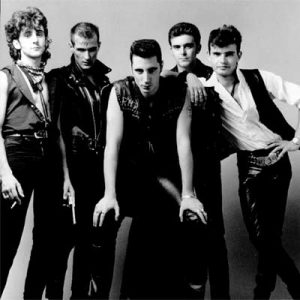 El compositor de la mayoría de las canciones de Los Trogloditas, Sabino Méndez, y miembro fundador de Loquillo y Los Trogloditas vuelve a trabajar junto con el Loco.
Dirty Rock estuvo en aquel concierto despedida, en que Sabino Méndez ser subió al escenario por última vez con Los Trogloditas, fueron junto con los australianos Jet, los teloneros de The Rolling Stones un 28 de junio de 2007 en el Vicente Calderón de Madrid.
No dejes de  leer la crónica del concierto de The Rolling Stones en Madrid, el 28 de junio de 2007.

Sabino Méndez en la última actuación con Loquillo y Los Trogloditas en el concierto de Los Rolling Stones en Madrid.
Spanish songwriter reunites with Loquillo y Los Trogloditas, Dirty Rock was at the last concert Sabino Méndez was on stage with Loquillo, they were warmin' up with Jet, The Rolling Stones' concert in Madrid that June 28th at Vicente Calderón Stadium.