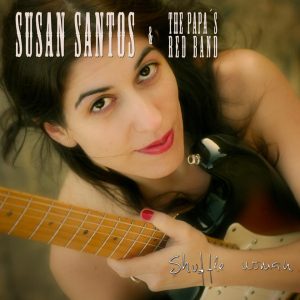 Susan Santos presentó su espléndido y nuevo disco "Shuffle Woman" el pasado 14 de diciembre en la Sala Clamores de Madrid. Una magnífica disertación de Blues tejano, Funky, Rock, country y Boggie, por supuesto "straight to the bone".
Susan Santos, pacense, reivindica su blues a degüello, al igual que otros muchos en nuestro país. Su último disco se vale de los rudimentos más primitivos del género, bellas y apasionadas composiciones esculpidas a golpe de ritmos volcánicos y guitarras bien cargadas de muchísima pata negra extremeña.
Susan Santos, como Etta James o Janis Joplin, a sus treinta y un años se sintió viciosa por el blues y de manera autodidacta aprendió a llorar y tocarle la guitarra al blues. A partir de ahí empezó a convertir cientos de almas engrasadas, en almas negras.
En 2009 se desplaza a Madrid y forma un power-trío "Susan Santos & The Papa's Red Band", junto a David Olivier al bajo y David Fernández a la batería. Al año siguiente graban su primer trabajo "Take me home" (Grasa Records, 2010).
Durante ese año y el siguiente, Susan Santos & SPR salen de gira por multitud de festivales internacionales y nacionales, llegando a tocar en múltiples salas en Chicago, Buddy Guy Legends, Rosa's Lounge, Kingston Mines, B.L.U.E.S, y tocar junto a Sugar Blue (armónica durante un tiempo de The Rollings Stones) ¿quien no recuerda esa maravillosa e incendiaria armónica en "Miss You"?
En esos viajes compartió escenario con Jimmie Vaughan, Joe Bonamassa, The Fabulous Thunderbirds, Joe Louis Walter y Buddy Whittington.
Decárgate «Black Sunglasses» de Susan Santos en el siguiente enlace.
Escucha «Shuffle Woman» de Susan Santos & The Papa's Red Band
En abril de 2011 comenzaron gira por Europa y, entre otros, abrieron el festival Bluesroute de Masstricht (Holanda), Festival BluesCazorla (2010) y el Rock Blues Gellen (Suiza).
Esta serpiente llamada Susan Santos comienza a envenenar escenarios por el territorio nacional e internacional el próximo jueves dos de febrero que la llevará a Salamanca, Madrid, Barcelona, Tarragona y un mini tour por Londres e Irlanda.
La blues-shuffle-woman zurda no os dejará indiferentes, con su magnífico disco "Shuffle Woman" estoy seguro que puedes estar viajando por una cuarta dimensión entre el Delta, Chicago y Austin, por supuesto sin billete de regreso.
Trece temas, "Black sunglasses, Tequila shot, Midnight blue, Crazy, Don't treat me bad, Going back home, Shuffle woman, heatwave, straight to the bone, Spinnin' round, Come on, Tumbleweed y Wake up" compuestas música y letra por Susan Santos, resulta "Shuffle Woman, en el que también incluye un dvd del "making off del disco, dirigido por Javier León.
El resultado es afilado y muy eléctrico, la mujer zurda con mano de hierro ya lo demuestra desde el comienzo del disco, "Black Sunglasses" una auténtica y agresiva locomotora que te empuja a escuchar de un trago todo su disco.
Como Joplin, tenía trabajo como profesora en Badajoz, no le importó y se marchó para trabajar duro en Madrid, el resultado de Susan & the SPR y su nuevo disco, es que suenan fantásticos y nos gusta. Su encanto proviene de la crudeza, todo es primitivo y campestre, la chica de las gafas negras canta, llora y si ves que esas tumbleweed (plantas rodadoras) pasan rodando por tu casa, fijo que te gusta su disco como a ella Stevie Ray Vaughan, Jimmi Hendrix, ZZ Top, B.B.King, Warren Haynes o Derek Trucks.
Fechas confirmadas para su gira del 2012:
2 de febrero, Salamanca, Café El Corrillo. 22:00
5 de febrero, Madrid, El Junco (fiesta de inauguración de Susan que estará todos los domingos Jam Session) 13:30
9 de febrero, Barcelona, Sala Rocksound. 22:00
10 de febrero, Barcelona, Lliçà D'Amunt, Mô es Bar. 22:00
11 de febrero, Cerdanyola del Vallès (Barcelona), La Tía Felipa (Acústico al mediodía 12:30).
11 de febrero, Cerdanyola del Vallès (Barcelona), Blues Bar. 23:00
12 de febrero, Torredembarra (Tarragona), La Traviesa. 20:00
9 de marzo, Badajoz, Sala Dore. 22:00
10 de marzo, Cáceres, Bógalo Café. 22:30
29 de marzo, Londres (Inglaterra), Ain't nothinng but the Blues. 21:00
30 de marzo, Londres (Inglaterra), Ain't nothinng but the Blues. 21:00
18 de mayo, Madrid, Irish Rover.
28 de septiembre, Madrid, Irish Rover.
6 de octubre, Daganzo-Madrid, ER Festival de Blues Rock