La trigésima quinta edición de los premios de Blues, The 35th Blues Music Awards (los antiguos premios W.C Handy), organizados por The Blues Foundation con su sede en Memphis, tiene ya a sus nominados. Los premios del Blues, The BMA, se entregarán el próximo 8 de mayo en el Cook Convention Center en Memphis, Tennessee.
Esta nueva edición de los premios de Blues 2014 cuenta entre otros con los siguientes nominados Lurrie Bell, The Rides, James Cotton, Ben Harper, Charlie Musselwhite, Billy Boy Arnold, Buddy Guy, Gary Clark Jr., Tedeschi Trucks Band, Bettye Lavette, Sugar Ray Norcia & James Harman, Bobby Rush, Lil Ed & the Blues Imperials, Rick Estrin & the Night Cats, The Mannish Boys, Trampled Under Foot, Ana Popovic, Adrianna Marie and Her Groovecutters, Clay Swafford, Gracie Curran & the High Falutin' Band, Paul Gabriel, Shawn Holt & the Teardrops, Valerie June, Brandon Santini, Cyril Neville, Bob Stroger, Cedric Burnside, Kim Wilson, Eddie Shaw, Marcia Ball o Irma Thomas entre otros.
La 35th Blues Music Awards Blues Awards BMA, está protegida por la fundación The Blues Hall of Fame, que es la que lo organiza desde hace 35 años y que cuenta con afiliaciones en más de 135 organizaciones relacionadas con el Blues y con miembros repartidos por más de veinte países.
La organización The Blues Foundation se fundóen 1980, y está dirigida por un gabinete de 25 personas con la misión preservar la historia del Blues y todo su legado patrimonial. Antiguamente los premios del Blues se donimanaban W.C. Handy, los cuales se otorgan en reconocimiento a las mejores grabaciones e interpetaciones de Blues de ese año, posteriormente, el premio cambió su nombre por el de The Blues Music Awards.
Para ver los ganadores de la anterior edición 2013 Blues Music Awards Blues Awards, clica en éste párrafo.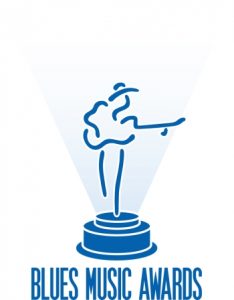 Los nominados este año a los Blues Music Awards Blues Awards 2014, son los siguientes:
Álbum acústico
There's a Time – Doug MacLeod
Juba dance – Guy Davis featuring Fabrizio Poggi
Soulscape – Harrison Kennedy
Avalon – Rory Block
Unleashed – The Hound Kings
Artista acústico
Doug MacLeod
Guy Davis
Harrison Kennedy
Little G Weevil
Rory Block
Álbum de blues
Get Up! – Ben Harper with Charlie Musselwhite
Remembering Little Walter – Billy Boy Arnold, Charlie Musselwhite, Mark Hummel, Sugar Ray Norcia & James Harman
Rhythm & Blues – Buddy Guy
Cotton Mouth Man – James Cotton
Blues in My Soul – Lurrie Bell
Premio B.B King Entertainer
Bobby Rush
Buddy Guy
John Németh
Kim Wilson
Rick Estrin
Mejor banda
Lil Ed & the Blues Imperials
Rick Estrin & the Night Cats
Tedeschi Trucks Band
The Mannish Boys
Trampled Under Foot
Mejor álbum debut
Double Crossing Blues – Adrianna Marie and Her Groovecutters
Rooster – Clay Swafford
Proof of Love – Gracie Curran & the High Falutin' Band
What's the Chance… – Paul Gabriel
Daddy Told Me – Shawn Holt & the Teardrops
Pushin' Against a Stone – Valerie June
Mejor álbum de blues contemporáneo
Get Up! – Ben Harper with Charlie Musselwhite
This Time Another Year – Brandon Santini
Rhythm & Blues – Buddy Guy
Magic Honey – Cyril Neville
Badlands – Trampled Under Foot
Artista femenina de blues contemporáneo
Ana Popovic
Beth Hart
Bettye LaVette
Candye Kane
Susan Tedeschi
Artista masculino de blues contemporáneo
Buddy Guy
Gary Clark, Jr.
Johnny Sansone
Kim Wilson
Otis Taylor
Mejor DVD
High John Records – Time Brings About a Change (Floyd Dixon)
J&R Adventures – An Acoustic Evening at the Vienna Opera House (Joe Bonamassa)
Shake-It-Sugar Records – Live (Murali Coryell)
Ruf Records – Songs from the Road (Royal Southern Brotherhood)
Blue Star Connection – Live at Knuckleheads (The Healers)
Mejor álbum histórico
The Sun Blues Box (Various Artists) – Bear Family
The Original Honeydripper (Roosevelt Sykes) – Blind Pig Records
The Jewel/Paula Blues Story (Various Artists) – Fuel Records
Death Might Be Your Santa Claus (Various Artists) – Legacy Recordings
The Complete King/Federal Singles (Freddie King) – Real Gone Music
Guitarrista del año
Anson Funderburgh
Gary Clark, Jr.
Kid Andersen
Lurrie Bell
Ronnie Earl
Bajista del año
Bill Stuve
Bob Stroger
Danielle Schnebelen
Larry Taylor
Patrick Rynn
Batería del año
Cedric Burnside
Jimi Bott
Kenny Smith
Tom Hambridge
Tony Braunagel
Armonicista del año
Brandon Santini
Charlie Musselwhite
James Cotton
Kim Wilson
Rick Estrin
Trompetista del año
Big James Montgomery
Eddie Shaw
Jimmy Carpenter
Sax Gordon
Terry Hanck
Koko Taylor Award (Artista femenina de blues tradicional)
Diunna Greenleaf
Lavelle White
Teeny Tucker
Trudy Lynn
Zora Young
Pinetop Perkins Award (Pianista del año)
Barrellhouse Chuck
Dave Keyes
Marcia Ball
Mike Finnigan
Victor Wainwright
Álbum de rock-blues
Gone to Texas – Mike Zito & the Wheel
Made Up Mind – Tedeschi Trucks Band
Can't Get Enough – The Rides
John the Conquer Root – Toronzo Cannon
Luther's Blues – Walter Trout
Mejor canción
"Blues in My Soul" – Lurrie Bell
"He Was There" – James Cotton, Tom Hambridge & Richard Fleming
"That's When the Blues Begins" – James Goode
"The Entitled Few" – Doug MacLeod
"The Night the Pie Factory Burned Down" – Johnny Sansone
Álbum de soul-blues
Down In Louisiana – Bobby Rush
Soul Changes – Dave Keller
Soul for Your Blues – Frank Bey & Anthony Paule Band
Remembering O. V. – Johnny Rawls
Truth Is (Putting Love Back Into the Music) – Otis Clay
Artista femenina de soul blues
Barbara Carr
Denise LaSalle
Dorothy Moore
Irma Thomas
Sista Monica
Artista masculino de soul blues
Bobby Rush
Frank Bey
John Nemeth
Johnny Rawls
Otis Clay
Álbum de blues tradicional
Driftin' from Town to Town – Barrelhouse Chuck & Kim Wilson's Blues All-Stars
Remembering Little Walter – Billy Boy Arnold, Charlie Musselwhite, Mark Hummel, Sugar Ray Norcia, James Harman
Cotton Mouth Man – James Cotton
Blues in My Soul – Lurrie Bell
Black Toppin' – The Cash Box Kings
Artista de blues tradicional
Anson Funderburgh
Billy Boy Arnold
James Cotton
John Primer
Lurrie Bell