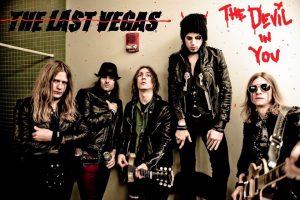 Tod Bowers, bajista de The Steepwater Band me lo confirmaba el pasado 6 de octubre, después de su concierto en la isla con los Steepwater, "si quieres ver y escuchar a la mejor banda de rock and roll del momento, vete a Chicago, ellos son The Last Vegas".
The Last Vegas son de Chicago, Chad Cherry, líder y voz de la banda, Adam Arling, guitarra, Johnny Wator, guitarra, Nathan Arling, batería y Danny Smash al bajo, disparan a matar con su sucio espectáculo de rock and roll y glam setentero.
El próximo viernes 3 de febrero comenzará a arder España, 14 bacanales de rock and roll sucio, puro y duro, pistoletazo de salida en Bilbao, Azkena y concluirán en Monzón (Huesca), Serjos Zona Roc.
The Last Vegas son un espectáculo sobre el escenario. Como podréis comprobar, son muy directos, puros y sexys, no engañan a nadie, son el puro infierno.
El monstruo y la rabia que llevan dentro llamó la atención de Nikki Sixx de los Mötley Crüe cuando, en el 2008 en la mítica sala de Los Angeles Whisky A Go-Go, ganaron el certamen de bandas emergentes para la tienda de instrumentos musicales Guitar Center. Automáticamente pasaron a ser los teloneros de los Mötley y de ahí en adelante compartieron tablas, por citar algunas bandas, con AC/DC, Buckcherry, Papa Roach o Guns & Roses, además de haber rodado  por diecisiete países diferentes.
Bajo el brazo su nuevo disco, "The Other Side", atrás quedan sus trabajos del 2004 con «Lick' Em and Leave'Em», «Seal the Deal» en el 2006, «High Class Trash» del 2007, «The Last Vegas» 2009 y «Whatever Gets you Off» del 2009.
Hemos escuchado algunas canciones de "The Other Side" como "Evil Side", "It Ain't Easy" o la propia "Other Side" y son la bomba, se nota toda esa magia negra y siniestra de los estudios Chess Records en su ciudad natal, "It Ain't Easy" es un clásico que han escupido glorias como David Bowie (grabado para su álbum «The Rise and Fall of Ziggy Stardust and The Spiders from Mars» en 1972), Bettye Lavette o Shooter Jennings.
Desde el South Side de Chicago, una de las cunas del blues más eléctrico, estos Loose Lips Boys se presentan de nuevo en España para subir el volumen de nuestras salas y escapar de ellas con los oídos completamente calcinados con sus relámpagos endemoniados.
De buena tinta sabemos que The Last Vegas estuvieron muy cerca de aparecer por Canarias en esta gira, ganas no le faltaron al promotor que, ávido, se adelantó a la jugada. Y por "culpa" de los malditos carnavales no osó a apostar sus cuartos. Quién sabe que hubiera ocurrido ¡que no sea "the Last time", Juan, go for it!
Nos veremos en Barcelona, a los de Chicago les bastarán cinco minutos de guitarras, voces y batería, con desfogue de cabezas nerviosas, para probar lo atractivo que es el mal del otro lado "the other side".
Conciertos de The Last Vegas en España dentro de su «Spain Tour 2012 The Other Side»:
3 de febrero de 2012: Bilbao, Azkena
4 de febrero de 2012: Pamplona, Totem
5 de febrero de 2012: Gijón, Monkey Club
7 de febrero de 2012: Cangas de Morrazo, Salason
8 de febrero de 2012: A Coruña, Mardigras
9 de febrero de 2012: León, Campus Universitario
10 de febrero de 2012: Vitoria-Gasteiz, Helldorado
11 de febrero de 2012: Hondarribia, Psylocibenea
14 de febrero de 2012: Madrid, La Boite
15 de febrero de 2012: Cádiz, Supersonic
16 de febrero de 2012: Murcia, Stereo
17 de febrero de 2012: Valencia, Durango Club
18 de febrero de 2012: Barcelona, Rocksound
19 de febrero de 2012: Monzón (Huesca), Serjos Zona Rock