Bob Dylan actuará en el Festival Internacional de Benicàssim (FIB) el próximo julio (12 al 15 de julio de 2012), sin fecha por determinar por parte de la organización y músico.
Bob Dylan and his Band, acompañado probablemente por su cohorte habitual Tony Garnier (bajo, contrabajo), Donnie Herron (guitarra, mandolina, pedal-steel), Stu Kimball (guitarra), George Receli (batería) y ojalá vengan Charlie Sexton y Larry Campbell, el último probablemente no lo haga, ya que es el músico habitual del gran Levon Helm, se embarcarán de nuevo en una nueva gira europea, la "Never Ending Tour" que comenzara en 1988.
El pasado 6 de octubre de 2011 en Dublin, Bob Dylan comenzó una extensa gira por Europa, compartiendo escenario con el compositor escocés y lider de Dire Straits, Mark Knopfler, que culminaría en Londres el 21 de noviembre de 2011.
Mark Knopfler colaboró por primera vez con Bob Dylan, en 1979, en el álbum "Slow Train Coming". Luego le produjo "Infidels" en 1983 Y la última vez en que participó en una grabación de Dylan fue en 1988 en "Down in the Groove".
Bob Dylan comenzará una gira por sur América el próximo 15 de abril, Brasil, Argentina, Chile y terminará en Centroamérica, Heredia, Costa Rica el 5 de mayo.
Recientemente os contamos desde Dirty Rock, que Bob Dylan se encontraba en Los Angeles, en el estudio del compositor y cantante norteamericano Jackson Browne, grabando su próximo disco de estudio junto a David Hidalgo, guitarrista de Los Lobos. Diversos medios de comunicación desde Los Angeles afirman que el disco contiene sonidos inusuales a Dylan, quizás aires mejicanos y que habrá mucho acordeón.
La última vez que Bob Dylan visitó España fue en junio de 2010, en el Azkena Rock Festival de Vitoria y en el Poble Espanyol de Barcelona.
Hace unas semanas, Bob Dylan ha sido el protagonista de un disco con versiones de algunas de sus canciones más famosas titulado "Chimes of freedom", 50 años desde la publicación del primer álbum de su carrera, Bob Dylan, álbum homónimo editado en 1962.
En él participan 80 artistas de la talla de Jackson Browne, Lucinda Williams, Jeff Beck, Joan Baez, Billy Bragg, Steve Earle, Ziggy Marley, My Morning Jacket, The Avett Brothers, Bettye LaVette, Patti Smith o Elvis Costello entre otros, e incluye reinterpretaciones de clásicos como «It ain't me babe», «Just like a woman» o «Like a rolling stone» en beneficio de Amnistía Internacional.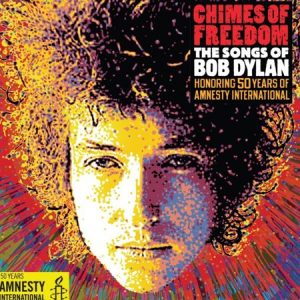 Ya lo comenté en su momento, Bob Dylan lo relataba en su libro "Crónicas", del hastío de verse rodeado de un público de su quinta que ya no esperaba nada de él, excepto la retahíla de éxitos mal desempolvados. Decidido a no convertirse en momia en vida, probó a reinventarse por el camino de retorcerles el brazo a las canciones hasta que a éstas les cambiara la cara por completo.
No es fácil ser Fan suyo, él ha decidido ser exigente con ellos, requiere paciencia y atención para disfrutar, Dylan no saluda, no hace chistes entre canción y canción, no regala nada, es un músico, no un showman.
¿Lo entenderán los seguidores de la música indie en España?
Bob Dylan, el "like a rolling stone" que no se detiene nunca… "People are crazy and times are strange, I'm locked in tight, I'm out of range, I used to care, but things have changed"… .¿lo pensará Bob Dylan en el FIB?
El Festival Internacional de Benicàssim FIB,  se celebrará los días 12, 13, 14 y 15 de julio en Castellón
Otras fechas cerradas para su gira  europea son Lyon (18 de julio) y el  Hop Farm Music Festival en Kent, Inglaterra (29,30 junio y 1 de julio).
No dejes de leer la crónica del concierto de Bob Dylan en el Rock in Rio, Madrid (España) de 2008 , con fotos, vídeos y toda aquella jornada en el festival.
Bob Dylan will headline this summer's Benicassim festival.
Bob Dylan, the folk legend joins The Stone Roses, Florence And The Machine and At The Drive-In in headlining the event and a bill that includes New Order, Crystal Castles, The Vaccines and Noel Gallagher's High Flying Birds. The festival runs from July 12-15 this summer.
Also newly confirmed for the festival are Jessie J, David Guetta, Robyn Hitchcock & The Venus 3, Totally Enormous Extinct Dinosaurs, Agoria and Arveene & Misk.
It was reported earlier this year that Bob Dylan is recording a new studio album, with the singer reportedly working on new material at a studio in Los Angeles owned by US singer-songwriter Jackson Browne.
Bob Dylan and his band will perform in Brazil, Argentina and Chile in April, and Costa Rica in May.
In January 1961, on a cold snowy evening in Greenwich Village, a twenty-year-old Bob Dylan, fresh out of Minnesota, began his professional career in earnest playing at a hole-in-the-wall coffee house. A few months later, the British lawyer Peter Benenson and some friends in London launched the campaign that became Amnesty International. Chimes of Freedom: The Songs of Bob Dylan» Released in Support of Amnesty International.
Bob Dylan and Mark Knopfler were touring together last fall in Europe tour in London, exchanging verses and hugs.
Bob Dylan and Mark Knopfler join forces yet again after previous collaboration in 1979 and 1983. The two of the greatest living songwriters will be accompanied with their own bands and are about to tour Europe this autumn.