Earl Scruggs, el guitarrista de banjo más influyente del Bluegrass y la música Country, falleció el miércoles 28 de marzo en Nashville, a los 88 años de edad.
Earl Scruggs fue el auténtico innnovador del banjo de cinco cuerdas y revolucionario del género Bluegrass, hasta el punto que se le atribuye la consolidación del Bluegrass en 1946 cuando, con 21 años, se incorporó a la banda de Bill Monroe, Bill Monroe and The Blue Grass Boys, la banda que dio origen y nombre al género, creada en 1939 cuando Bill y Charlie Monroe decidieron poner fin al dúo The Monroe Brothers, muy populares en los años 20 y 30. Igualmente importante en los Blue Grass Boys fue el guitarrista Lester Flatt (1914-1979), inseparable de Scruggs. Muy pronto, en 1948, ambos formarían The Foggy Mountain Boys y Flatt & Scruggs, referente del Bluegrass hasta 1969, momento en el que Scruggs inicia una carrera en solitario junto a sus tres hijos como The Earl Scruggs Revue.
Su técnica a la hora de tocar el banjo se denomina «The Scruggs Picking Style» o simplemente el estilo Scruggs, y consiste en utilizar tres dedos en lugar de solo dos, picoteando (picking, tocar con púa o usar la uña como púa) con pulgar, índice y corazón el banjo de cinco cuerdas.
La mayoría de músicos que tocaban el banjo durante la década de los 40, lo hacían con un banjo de cuatro cuerdas, utilizando el estilo denominado «frailing», que consistía en rasgar o arañar las cuerdas, en vez de picotearlas individualmente con los tres dedos, como haría posteriormente Earl Scruggs.
El estilo y método que el Banjo Man Earl Scruggs desarrolló, fue pionero en el Bluegrass y Country a finales de los años cuarenta. Artistas como John Fogerty, Scotty Moore, James Burton, Bob Dylan, Bonnie Raitt, Keith Richards, Larry Campbell, Johnny Cash o Jerry García han sido fieles amantes de su estilo, el «Scruggs style».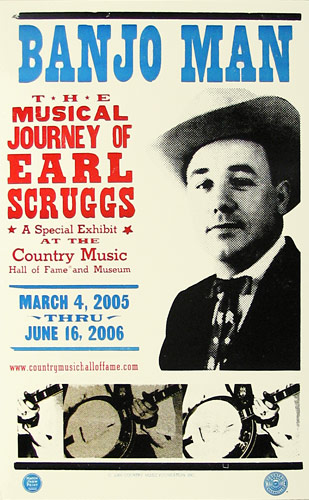 Earl Scruggs es autor de uno de los libros imprescindibles sobre el banjo: «Earl Scruggs and the 5 string Banjo». El libro viene acompañado de un cassette en el que se puede escuchar al mismísimo Earl Scruggs explicando cada lección, llamar «fangers» en vez de «fingers» a los dedos e insistir en que su técnica, si no se realiza correctamente, puede causar calambres en los dedos.
¿Quien no recuerda el sonido de su banjo Gibson Granada en «Duelo de banjos» (Dueling Banjos) en la película de John Boorman, Deliverance; el tema «Foggy Mountain Breakdown» en la película Bonnie and Clyde de Arthur Penn, o el tema principal de la serie de televisión de The Beverly Hillbillies TV show?
Ganador de dos Grammy's, miembro de la Country Music Hall of Fame, influencia para muchísimos guitarristas y considerado uno de los músicos más influyentes en la Country Music, su legado es más que inmenso.
Que se lo digan al actor y músico Steve Martin and the Steep Canyon Rangers; o a The Soggy Bottom Boys, la banda que formó el también actor George Clooney para su película O Brother, Where Art Thou? ferviente tributo al legado de Scruggs y Lester Flatt.
Dueling Banjos, en la película Deliverance
Earl Scruggs y Steve Martin
https://youtu.be/icMTVV5Lwaw
«Foggy Mountain Breakdown» en la película Bonnie and Clyde
«The Ballad of Jed Clampett», tema de la serie de televisión The Beverly Hillbillies TV Show.
Trailer de O Brother, Where Art Thou?
Steve Martin and the Steep Canyon Rangers
Escucha la historia de como se compuso «Foggy Mountain Breakdown» para la película de Arthur Penn «Bonnie and Clyde», 1967.

Puedes ver el documental «Give me a Banjo», narrado por el actor y músico Steve Martin, en el que cuenta la historia de un instrumento que tiene más de 300 años y que han sido utilizados por legendarios nombres como Earl Scruggs, Pete Seeger, Bela Fleck, Taj Mahal, Mike Seeger,o Abigail Washburn, y que han influido en estilos como el Jazz, el Ragtime, el Blues, el Folk o el Rock.
Famous banjo player Earl Scruggs passed away 3/28/12, Wednesday, at a Nashville hospital. He redefined and the banjo sound by revolutionizing the 3-finger style.
A pioneering banjo player who helped create modern country music, his sound is instantly recognizable and as intrinsically wrapped in the tapestry of the genre as Johnny Cash's baritone or Hank Williams' heartbreak.
Scruggs passed away Wednesday morning, March 28th, at 88 of natural causes. The legacy he helped build with bandleader Bill Monroe, guitarist Lester Flatt and the rest of the Blue Grass Boys was evident all around Nashville, where he died in an area hospital. His string-bending, mind-blowing way of picking helped transform a regional sound into a national passion.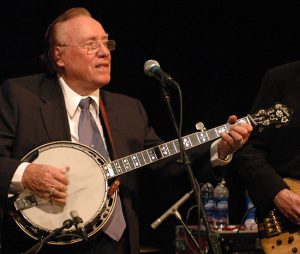 Earl Scruggs is probably the most famous 5-string banjo player to ever live. Of course, these days, banjo players are not exactly the most popular of musicians.
Earl Scruggs invented (or at least popularized) the three finger picking style used in bluegrass music. Prior to that, most banjo players used a style called «frailing» in which the strings are typically strummed rather than picked individually, and the typical banjo usually had 4 strings rather than 5.
Earl Scruggs is also the author of the book (and accompanying cassette tape) «Earl Scruggs and the 5-string Banjo». The tape is pretty funny, though not intentionally. Earl insists on calling fingers «fangers», and keeps warning you about how your «fangers will cramp up».
Earl wrote what is probably the second most famous banjo tune ever, Foggy Mountain Breakdown, featured in the Bonnie and Clyde movie. He also wrote and performed the theme for The Beverly Hillbillies TV show, and appeared as a guest star on the show a number of times, along with Lester Flatt. (The most famous banjo tune, is of course, Dueling Banjos featured in the film Deliverance and which, strangely, features a duel between a banjo and a guitar, rather than one between two banjos).