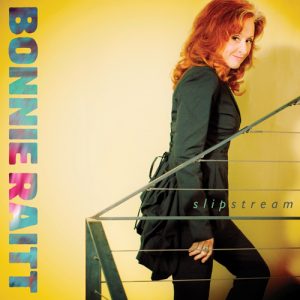 Bonnie Raitt regresa con un nuevo disco de estudio, el vigésimo de su carrera, «Slipstream», que se publicará el próximo 10 de abril.
La magnífica compositora y baronesa del Blues, después de siete años sin entrar en un estudio de grabación, vuelve con este «Slipstream», un magnífico disco de versiones, 12 temas de Blues, Reggae, Rock and Roll, Jazz, Country y Soul, en los que interpreta a grandes como Bob Dylan, Gerry Rafferty, Randall Bramblett, Al Anderson o Joe Henry.
«Slipstream» está producido por Bonnie Raitt y el genio Joe Henry, y en el disco colaboran el espléndido guitarrista Bill Frisell y Al Anderson (guitarrista de NRBQ).
Bonnie Raitt está considerada una de las mejores guitarristas y compositoras en Estados Unidos. El manejo del slide es uno de sus puntos fuertes. Hasta 2009 estuvo cuidando a su hermano gravemente enfermo, y durante estos últimos años ha estado de gira con Taj Mahal.
Escucha en nuevo disco de Bonnie Raitt «Slipstream»
Escucha el nuevo vídeo de  Bonnie Raitt con su Stratocaster Sunburst del 63 a pleno Reggae en "Right Down the Line".
Escucha el nuevo disco de Bonnie Raitt, «Slipstream» en el enlace de NPR Music.
Bonnie Raitt y Taj Mahal en Done Changed My Way Of Living
Su extensa gira por Norteamérica la llevará por 70 ciudades, empezando el 1 de mayo en Oklahoma y terminando el 24 de junio en Massachussets. Por el momento no hay fechas para Europa.
Otro buen ejemplo de cómo le quema a Bonnie Raitt su guitarra es su tema «Ain't Gonna Let You Go», un arenoso y espléndido Rock and Roll, Country y Blues jam de casi 6 minutos de duración.
Entrevista a Bonnie Raitt en The Point FM Radio el pasado 21 de marzo de 2012.
Bonnie Raitt, auténtica debilidad de Dirty Rock, Let's give them something to talk about!!
Bonnie Raitt, Hall of Famer will release her first album in seven years in April 2012.
Following the deaths of her parents, brother and best friend, Bonnie took a break from music in order to «get in touch» with the other part of her life, and who could blame her?
The new album Slipstream contains two Bob Dylan covers, you'll have to wait until it is released to see which ones make the cut. The release comes in time for renewed interest in Raitt from a youunger demographic thanks to Adele's cover «»I Can't Make You Love Me» released as a live track on iTunes last year.
Raitt will also perform a major tour dates in 2012 to coincide with the release of Slipstream