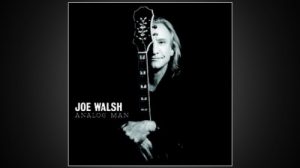 Joe Walsh (James Gang, Eagles o Ringo Starr & His All-Starr Band) regresa arrollando con el single «Analog Man», adelanto de lo que será su próximo álbum el 5 de junio, un nuevo disco en solitario después de 20 años. Producido por Jeff Lynne (ELO).
What's wrong with vinyl?
Escucha el nuevo disco de Joe Walsh «Analog Man».
Joe Walsh «Analog man» his new single, living in a digital world.» It's been a long time,20 years to be exact, since Joe's last solo album. This time he's recruited the legendary and ObviousPop favorite Jeff Lynne of ELO to produce. I'm a huge Walsh fan and Lynne fan, so this release is a big deal to me, and I'm sure to aging hipsters everywhere. You can stream the title track right here, and the album releases June 5th.